Turning Point Advocacy, a non-governmental organization that focuses on child literacy, STEM education for girls, and women economic empowerment in the Tarkwa Nsueam Municipality of the Western Region, is admonishing final year Junior High School(JHS) girls in the municipality to take up careers in Science, Technology, Engineering and Mathematics.
This, according to the Founder of Turning Point Advocacy, Dr. Naa Dedei Tagoe Mantey, will increase the dwindling number of women in science related studies in Ghana.
Women are more than men in Ghana. However, the relatively insignificant number of them in science, technology, engineering and mathematics, leaves the tough engineering, technology and other fixes to the men; a situation that worries advocates of gender equality and threatens the attainment of the Sustainable Development Goals.
This phenomenon is attributed to some norms and traditions in Ghana which inherently suppresses women.
It is against this backdrop, that Turning Point Advocacy has been offering career mentorship and empowerment to final year Junior High School girls in the Tarkwa-Nsueam municipality.
Turning Point, apart from seeking to encourage more Junior High School girls to choose and remain in STEM careers, is also helping women correct wrong notions and perceptions surrounding STEM programs, and to assist them overcome gender based stereotype and cultural barriers.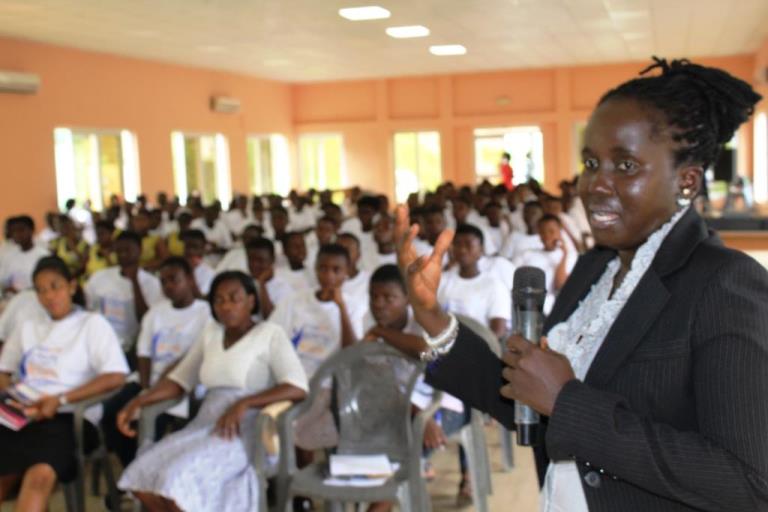 Speaking to Citi News at a STEM For Girls Workshop themed, "unlocking the opportunities in STEM careers", Dr. Naa Dedei Tagoe Mantey, who is also a lecturer at the University of Mines and Technology in Tarkwa, explained that women participation in STEM programs can be enhanced when Junior High School final year girls particularly are assisted to take up STEM programs.
She said "JHS Three (3) is a point where young people would have to take very important decisions in their lives. Even though they are not matured enough to fully understand what they are really doing during these times, which decision, in our Ghanaian context, there is no turning back in their career."
She continued that "if later on they begin to see the relevance of science, by which time they have already taken a decision in humanities, currently in our country, there is no turning back. This is why we chose the JHS 3 girls who are about making this important decision in their lives. We show them the opportunities there is in choosing STEM careers and how they can choose corresponding programs carefully going into this decision of a lifetime".
Some of the students drawn from the Dadwen Basic School at Nsuta, Jerusalem MA Basic School in Tarkwa, the St. Mary's Catholic School at Nsuta, and the Methodist Basic School, also at Nsuta, could not hide their excitement after they were taken through a day's STEM career guidance and mentorship workshop at the Ghana Manganese Company Auditorium in Tarkwa.
They were taken through career opportunities available to STEM students by Dr. Nana Ama Brown Klutse, a senior Research Scientist at the Ghana Space Science and Technology Institute of the Ghana Atomic Energy Commission, Dr. Magaret Mary Nimo, lecturer at the Kumasi Technical University, Mrs. Josephine Akuba Timtey, and a host of other accomplished women in respected fields.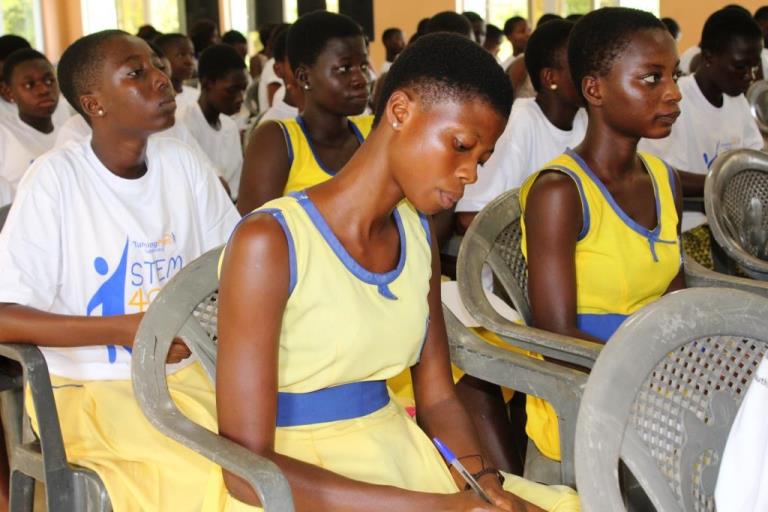 Jessica Kyerewa, a student at the Nsuta Basic School Complex, explained in excitement after the training that "before coming here, I used to think that I wasn't good in Mathematics and Science so I had already decided I will not do any Mathematics or science related course at the senior high school level. But I have learnt today that Mathematics and Science is not for boys only. There are many women who are medical doctors and some in high positions. I am going home to improve my Mathematics and Science so I can become someone tomorrow."
Others promised avoiding behaviors at home that consumes useful hours, and channel such energies and time to improve their science studies.
The Tarkwa STEM for Girls Workshop was supported by the Ghana-US Department of State Alumni Association, the Ghana Manganese Company, Western Transport Services, Youth Mappers and So Nice Drinking Water.
–
By: Obrempong Yaw Ampofo/citifmonline.com/Ghana