Former President John Mahama has lauded Kenya President Uhuru Kenyatta and opposition leader Raila Odinga's attempts at reconciliation following last year's bitterly contested election.
Mr. Mahama described the move as a "great show of statesmanship" in his comments on Twitter.
Great show of statesmanship.
Healing and reconciliation. Good for Kenya. pic.twitter.com/Ilq5oEcoaE

— John Dramani Mahama (@JDMahama) March 10, 2018
Uhuru Kenyatta and Raila Odinga spoke on national TV on Friday after holding their first public meeting since the poll.
President Kenyatta was sworn in for a second term last November after he won an election re-run in October, which Mr Odinga had boycotted.
In the election aftermath, about 150 people were killed and Mr Odinga subsequently swore himself in as the "people's president" and refused to recognise election winner, Mr Kenyatta, as head of state.
They had both dismissed all calls for talks, from Kenyans and foreign diplomats but in their joint address, President Kenyatta referred to Mr Odinga as his "brother".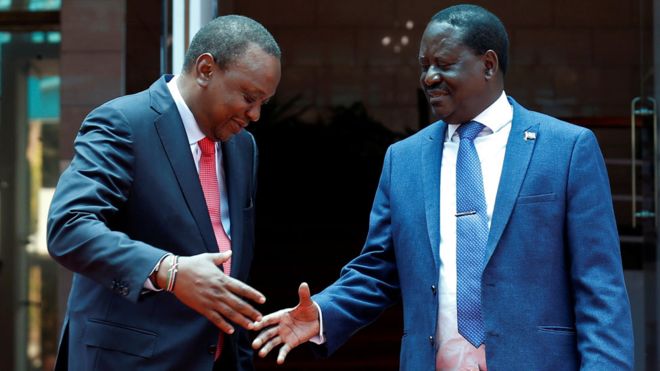 Thier meeting notably occurred ahead of a visit by US Secretary of State Rex Tillerson, who is expected to land in Nairobi for a three-day diplomatic tour.
Mr Mahama, has some stake in the matter as he led the Commonwealth observer mission to monitor the country's polls.
He faced some ridicule and criticism after the Supreme Court overturned the results of the election following alleged malpractices, as free and fair.
Mr. Mahama, alongside other observer groups, had declared the August 8, 2017 elections which the incumbent Uhuru Kenyatta won, as free and fair, despite the irregularities alleged by Kenya's opposition leader, Raila Odinga.
–
By: Delali Adogla-Bessa/citifmonline.com/Ghana