The implementation of the Free Senior High School is good news for parents whose wards enrolled in second cycle institutions this year. However, for some parents in public basic schools, especially the Junior High School, the notion that basic education in Ghana is free under the Free Compulsory Universal Basic Education (FCUBE), is just a fallacy.
Citi News' Farida Shaibu and Akosua Ofewaa Opoku, who visited some public Junior High Schools report that no student is admitted without having to pay for tuition, exercise books and in some cases, desks.
One of such schools is the Kwabena Atomic M/A 3 & 4 JHS located in the Dome Kwabenya constituency, where the education of a 12-year old prospective JHS girl has been put on hold because her mother cannot afford the 'outrageous' fees demanded by the school.
Theresa, the mother of this student, who has now completed primary 6, was visibly frustrated when the news team contacted her. She has been presented with three different lists by the school authorities to settle the fees or her child is denied admission.
"I went to the Kwabenya M/A JHS to enroll my child because she completed primary school around that school. When I got there, I was presented with a list, and they had written on PTA dues, admission fee among others, amounting to a total of GHC 179, and that's not all.
"Then they brought another one that she is supposed to buy exercise books and other things. That amounted to GHC211. Then I was later presented with a list of textbooks to purchase outside because the government has not been providing textbooks. So I went out to enquire and that was GHC250."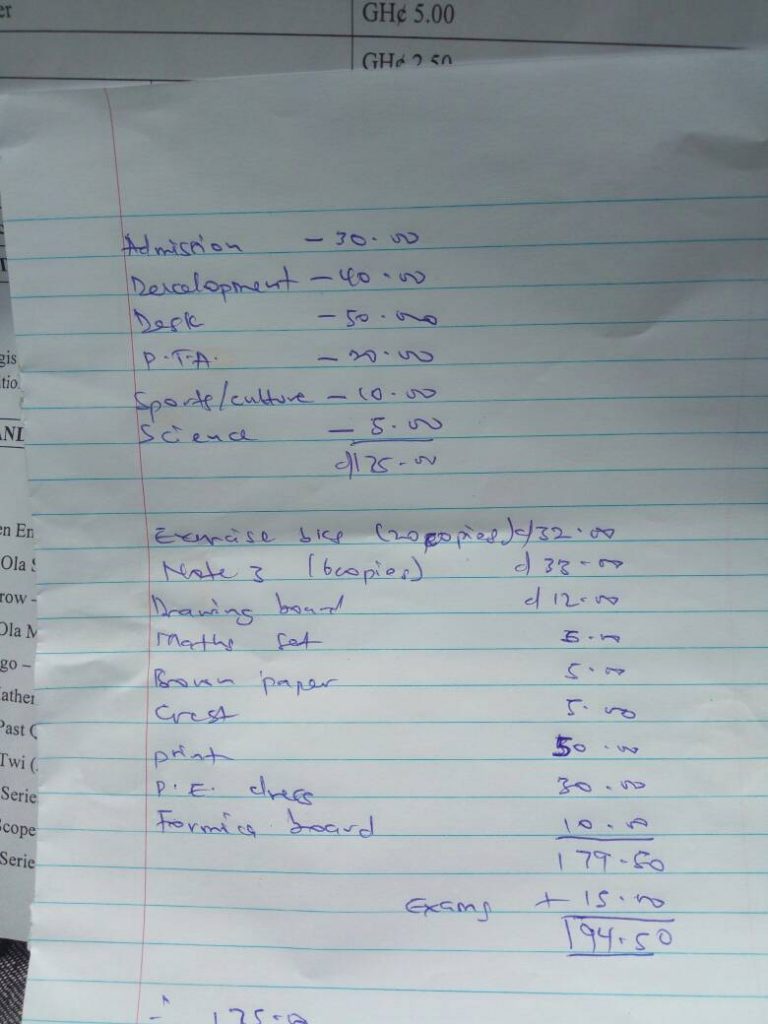 Despite this, activities at the school's staff common room were moving smoothly because some parents who could afford the fees had trooped in to beat the deadline which is Monday, September 18. Some had to pay a total of GHC 400 to get their wards into JHS 1.
Ironically, article 38 of the 1992 constitution stipulates that, basic education should be free under the Free Compulsory Universal Basic Education (FCUBE). The main objective was to expand access to good quality basic education, promote efficient teaching and learning, and ensure adequate and timely supply of teaching and learning materials to schools.
But current happenings in most of these schools looks like an affront to the provision of the programme because the constitution requires government to provide for the FCUBE, and depending on the resource availability, it extends to senior, technical and tertiary education.
But for these school authorities, all these provisions are just theories once governments over the years have neglected their mandate of ensuring adequate provision of teaching and learning materials.
The headmistress of the Kwabena Atomic M/A 3 & 4 JHS, Madam Joyland Kwetey, justifies this action.
"Government doesn't give us exercise books so they have to buy it. This is an uncompleted building. We don't have classrooms so the students have to pay development fees so we can complete the classrooms."
As of 12 noon when the news team entered her office, 82 JHS one students had already paid the amount being demanded by the school, hoping to start the academic term. The list from the school included admission fee, development fee, desk fee, sports and culture, PTA dues and science fee.
On another sheet is a list of exercise books, notebooks, drawing board, mathematical set, brown paper, crest, print material for boys and girls, PE dress and formica board. All these are sold at the school premises.
The final sheet has a list of text books to be bought outside the school.
In a bid to find out if these are not outrageous demands from basic school students, Madam Kwetey explained that "some of the students come to school empty-handed so if we don't give the books to them, how will they learn? This is what we have been taking and since we don't want them to go round looking for the books to buy, we have brought someone here to sell it to them."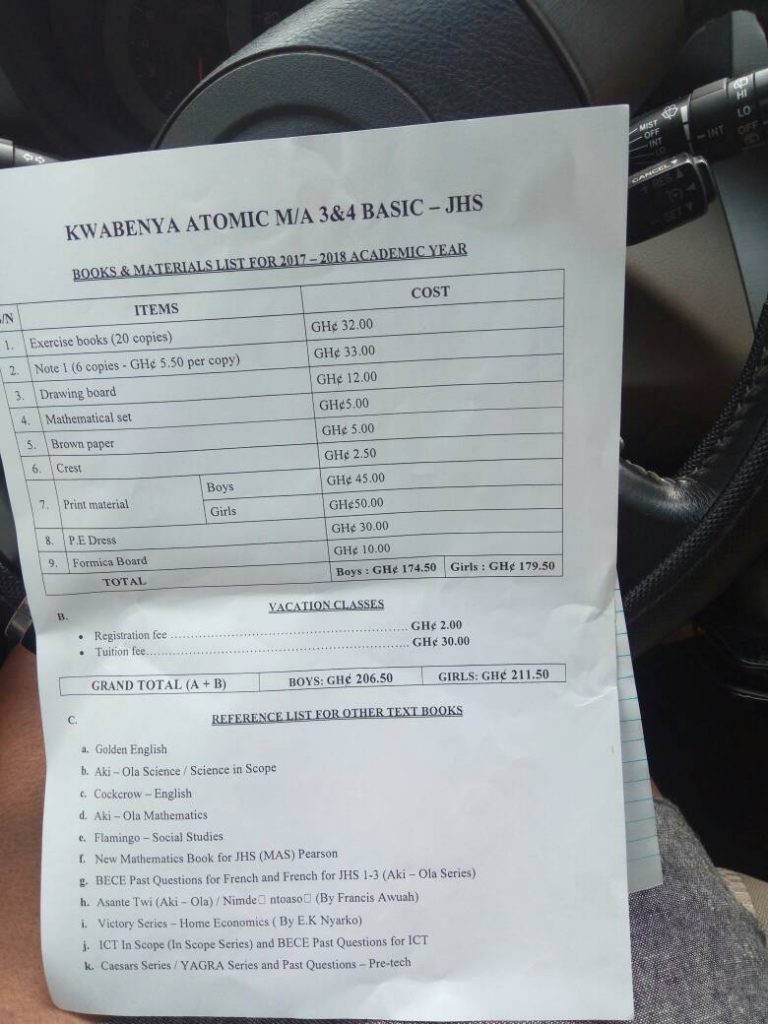 Currently, Ghana has almost 10,000 public basic schools and public secondary schools hover around 578. The transition rate from Primary 6 to JHS1, according to the 2016 Education Sector Performance Report, has reduced by 4.4 percent nationally. This is from 99.1% in 2014/15, to 94.7% in 2015/16 academic year.
For deprived districts, this decline was even steeper: from 91.7% to 83.2% in 2015/2016.
The Ghana Education Service (GES) seems unaware that schools are charging what they term as unapproved fees. When contacted, the Public Relations Officer for the service, Reverend Jonathan Bettey, was furious about the development.
But on the minds of many Ghanaians, the question still remains as to why government is sponsoring Free SHS when the very foundation, JHS, is being neglected? With the current situation, only parents who can afford to pay over GHC400 per term can get their wards to finish JHS and progress to enjoy Free SHS.
"Parents are crying. Whiles those in SHS their parents are now laughing, we parents whose wards are in JHS are now crying. Even this Monday, the headmistress said that will be the last day for students to pay their fees. My daughter told me that the school says if she does not pay, she shouldn't come. I don't have the money to pay," Theresa lamented.
For now, not all students at the Kwabenya Atomic M/A 3&4 basic JHS will be admitted in school, because at the time the news team left the premises, the headmistress had issued a threat to dismiss whoever defaults in payment.
By: Farida Shaibu/citifmonline.com/Ghana