A number of government websites in the US state of Ohio, including that of Governor John Kasich, have been hacked to display a pro-IS message.
It said President Donald Trump would be held accountable for "every drop of blood flowing in Muslim countries" and ended "I love Islamic state".
The hacking was carried out by a group calling itself Team System DZ.
The Ohio governor's website was down for maintenance for some time on Sunday, before coming back online.
The message in the hacking attack contained an Arabic symbol and was written mainly in the black and white used in the flag of so-called Islamic State.
The message on Mr Kasich's site also played an Islamic call to prayer.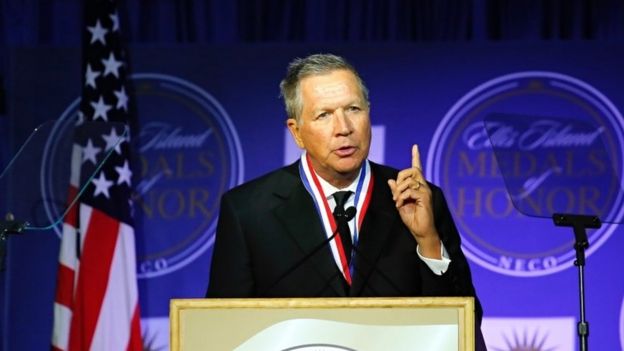 The message read: "You will be held accountable Trump, you and all your people for every drop of blood flowing in Muslim countries."
A spokeswoman for Mr Kasich, Emmalee Kalmbach, said in a statement: "As soon as we were notified of the situation, we immediately began to correct it, and will continue to monitor until fully resolved."
A number of other officials website were affected, including those of the Ohio Office of Health Transformation and the Ohio Department of Medicaid. They later came back online as well.
However, the websites of Ohio's First Lady Karen Kasich, the Ohio Department of Rehabilitation and Corrections and the Ohio Inspector General were still down for maintenance at midnight (04:00 GMT on Monday).

Ohio State Treasurer Josh Mandel posted a tweet telling "freedom-loving Americans" that radical Islam was "infiltrating the heartland".
The New York Post said the website of the New York state town of Brookhaven was also affected.
The group known as Team System DZ has carried out a number of hacking sprees in the past, many carrying anti-Israel messages.
The US is currently holding high-level inquiries into alleged cyber attacks by Russia aimed at influencing the result of last year's presidential election.
–
Source: BBC