Fighters of so-called Islamic State (IS) have launched counter-attacks as they come under growing pressure from Iraqi forces in Mosul.
IS deployed large numbers of suicide bombers in different parts of the northern Iraqi city but the affected areas were quickly brought under control, Iraqi officials say.
IS has now been squeezed into a square mile of territory in Mosul's Old City.
It is the final phase of an Iraqi offensive to remove them from Mosul.
It is clear that these are the dying days of IS in Mosul, the BBC's Orla Guerin reports from the edge of the Old City where she is moving with Iraqi forces.
The jihadists blew up the city's landmark al-Nuri mosque last Wednesday. This has now given Iraqi forces a clear hand to move more swiftly against IS and they have certainly done so, our correspondent adds.
There were some 20 air strikes against the group on Sunday, and more overnight. Helicopter gunships pounded IS positions and extensive mortar fire was heard.
At least two IS counter-attacks were reported on Sunday night. The Baghdad-based Kurdish Shafaq news agency reported three attacks by the group in western Mosul – in Al-Tanak, Rajm Hadid and Al-Yarmouk districts.
Residents' houses were set on fire, the agency said.
Eyewitness: Sally Becker, aid worker
I was just a couple of streets away from one of the IS counter-attacks.
We had around 20 bodies (Iraqi soldiers) here yesterday and many more injured. In fact the trauma stabilisation point (TSP) is full of soldiers right now. A brigadier arrived with a bullet in his neck yesterday afternoon and it was shortly after that everything went a bit crazy.
There were cars set alight on and the roads were closed.
According to sources here around 20 jihadists escaped from the Old City and popped up a couple of blocks from our TSP. In addition to this, the jihadist snipers have night vision goggles which meant the Iraqi army could only move very slowly.
It's definitely calmed down a bit now although between about 5 and 7 this morning it was pretty full on.
The offensive against IS in Mosul, the group's biggest and last urban stronghold in Iraq, was launched on 17 October 2016.
Thousands of Iraqi security forces, Kurdish Peshmerga fighters, Sunni Arab tribesmen and Shia militiamen, assisted by US-led coalition warplanes and military advisers, are deployed.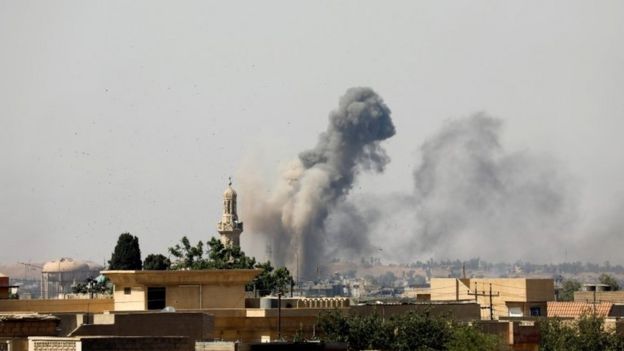 The government announced the full "liberation" of eastern Mosul in January 2017, but the west of the city, with its narrow streets, has presented a more difficult challenge.
–
Source: BBC