Police at Agbogbloshie at Old Fadama in Accra, have arrested two persons for possessing 500 rounds of ammunition.
The police were acting on intelligence they had picked up, along with a community member's collaboration, leading to the arrest of the two on the afternoon of Tuesday, April 18.
[contextly_sidebar id="CqpkJCcy2d1F6q65l649cCPpNQSyP8lk"]Addressing journalists in Accra today [Wednesday], the Public Relations Officer of the Accra Regional Police Command, ASP Effia Tenge, explained that police were currently carrying out further investigations to ascertain and establish the intent of the two persons.
The arrest follows follow deadly clashes at the Agbogbloshie Yam Market last week, where reports indicate that feuding factions are in possession with a wide range of illicit arms.
ASP Tenge explained that, the two suspects, Imoro Abdul Wahab, 25, a scrap dealer, and Kwaku Amankwa, 58, who claims to be a registered arms dealer, were involved in a transaction which saw the scrap dealer purchase the ammunition valued at GHc 1,000.
Abdul Wahab was arrested first, and subsequently led the police to the second suspect at a place called Arena in Accra.
"The police retrieved 250 rounds of BB cartridges and 250 rounds of AA cartridges summing up to the 500 pieces of cartridges," ASP Tenge noted.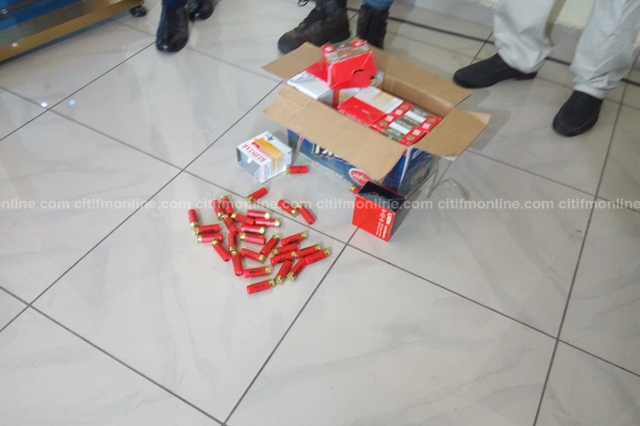 "Both suspects are being detained for investigations, and shall soon be put before the court when our investigations and the intent has been established."
Police trying to keep peace
ASP Tenge indicated that, some nefarious persons may look to capitalize on the tensions in the area to sell some arms, and thus advised the public not take advantage of the disturbances, warning that "the Police will not hesitate to arrest and prosecute any such persons to face the full rigours of the law."
She added that, the police is still promoting dialogue between the two feuding factions "with the immense support of key stakeholders such as leaders of the various sub-groups whose collaboration to a larger extent has eased the tensions."
Agbogbloshie must be purged of illicit arms – Nii Lante
Following the renewed communal clashes that led to the death of two persons, Member of Parliament for Odododiodio, Edwin Nii Lante Vanderpuye, said there had been a failure of security and authorities culminating in the proliferation of military-grade arms in the Agbogbloshie area.
In a Citi News interview, Mr. Vanderpuye lamented the insecurity in the area, which he says puts the lives of vulnerable residents at risk.
–
By: Delali Adogla-Bessa/citifmonline.com/Ghana