The Chinese mission in Ghana has expressed anger at the manner in which Ghana is dealing with the issue of illegal mining and has criticized the media for targeting China in their reportage on the matter.
The mission in a letter addressed to John Peter Amewu, Ghana's Minister for Lands and Natural Resources, said if nothing changes about the nature of campaigns against illegal mining in the country, bilateral relations between Ghana and China would be affected.
It said it was concerned about, "a number of distorted or biased reports and stories on Chinese people, especially some reports and cartoons that are defaming Chinese leaders and senior officials," in the media concerning the incident of illegal mining popularly known as galamsey.
The mission in the letter sighted by citifmonline.com called on the government to pay attention to the situation which it suggested sought to undermine China.
"The Chinese side is very concerned about this unhealthy tendency. We hope that the Ghanaian government will pay due attention to this situation, take the necessary action to stop such things from happening again and guide the media to give an objective coverage on the illegal mining issue so as to create a good environment for further development of our bilateral exchanges and cooperation."
Campaigns against illegal mining in the country have in the last few months intensified with Citi FM championing a #StopGalamseyNow campaign that is gaining momentum, rallying various stakeholders to address the menace which has left devastating effects on the country's environment.
Evidence from media reports and CSOs, including police arrests suggest the high involvement of Chinese in the activities, but according to the Chinese mission in the country, its [Chinese] government attaches great important to the illegal mining issue and is firmly against the involvement of Chinese in illegal mining in Ghana.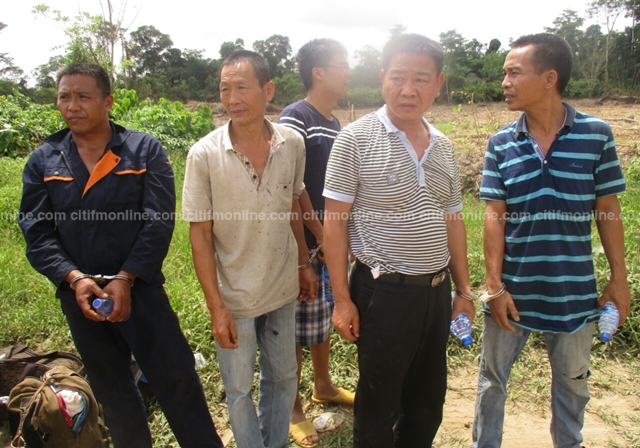 The mission said it was taking measures such as source control and persuading Chinese miners to go back to China and urging Chinese nationals to conduct legal business in Ghana to support Ghana's fight against the menace.
It also said the government must guide the media to ensure they do not publicize defamatory stories against Chinese leaders.
"We sincerely hope that the Ghanaian government shall take responsibility of guiding the media and requesting them not to publicize such defamatory reports or stories against Chinese leaders officials and the Chinese government. This will help create a sound environment for our joint efforts to address this issue and the continuous development of our bilateral relations," it said.
Meanwhile, the Minister for Lands and Natural Resources has given illegal miners a 3-week ultimatum to quit their operations.
The sector minister has given assurances that he will lead a task force to arrest illegal miners and destroy their equipment after the ultimatum.
–
By: Jonas Nyabor/citifmonline.com/Ghana
Follow @jnyabor