Airtel Ghana, the Smartphone Network has reaffirmed its commitment to promoting quality education in Ghana through a 'Back to School' donation of educational supplies to pupils of Tanoso SDA Cluster of Schools and the Sokoban Methodist School in the Brong Ahafo and Ashanti Regions respectively.
The donations are in line with the company's bold ambition to empower young people to fully realise their potential through the provision of educational materials and infrastructure.
A team from Airtel Ghana, led by the Zonal Business Manager for Ashanti and Brong Ahafo, Kwaku Asiedu, made a donation of books, school bags, pencil cases, mathematical sets, and lap desks to over 1,000 pupils in both schools.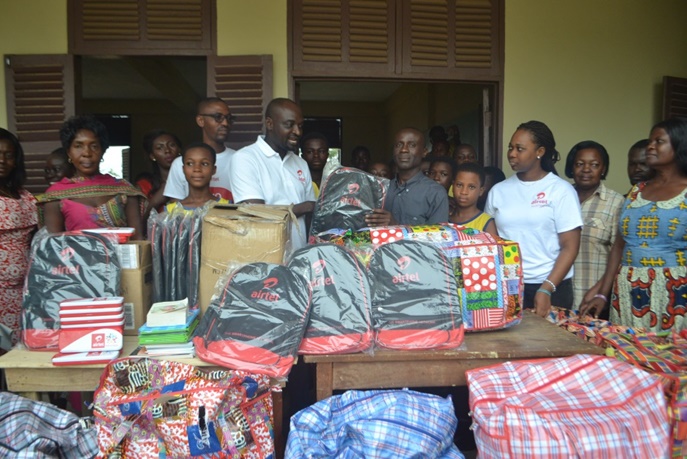 Speaking at a brief ceremony at the Tanaso SDA Cluster of Schools, Kwaku Asiedu reiterated the company's commitment to support the education of thousands of young people in the country through the provision of educational materials. He said "Airtel Ghana believes in empowering the next generation of leaders to fully realize their potential through the power of education. This is evidenced through our School Adoption and Evolve with STEM initiatives which seeks to invest in infrastructure developments and encourage the study of Science, Technology, Engineering and Mathematics.
Through the School Adoption programme, we have invested in infrastructure such as classroom blocks, libraries and ICT centers to facilitate effective teaching and learning in several schools across the country.
This donation is aligned to our commitment to invest in communities we operate in – especially in the area of education. This donation is also a way for us to invest in the lives of our brothers and sisters as part of the Easter festivities".
The Heads of the Sokoban Methodist School and Tanoso SDA Cluster of Schools, Mr. Charles Berko and Mr. Daniel Kwasi Okrah were optimistic that the pupils would put the materials to good use and expressed their heartfelt gratitude to Airtel Ghana for investing in the lives of young people across the country.
The beneficiary pupils expressed their gratitude to Airtel Ghana for the kind gesture.
Airtel Ghana continues to play a significant role in promoting education in Ghana through its CSR initiatives. The company has won several local and international awards such as "Best CSR Initiative at the Africa and Global Carrier Awards.
–
Credit: Airtel Ghana