Ghanaian journalist, Abdul Malik Kweku Baako, is one of the many Ghanaians who appear to be excited about the Supreme Court's order, to allow a former Attorney General, Martin Amidu, orally examine Ghanaian businessman, Alfred Agbesi Woyome, over the wrongful payment of Ghc51 million in judgment debt to him.
The New Crusading Guide Editor, could not hide his emotions when he jumped onto the dance floor in the studios of Accra-based Peace FM, following the news of the court's ruling on Wednesday morning.
Kweku Baako has on various platforms insisted that, the state is not pursuing the matter aggressively enough.
Mr. Amidu filed his application last week, praying the court to allow him cross-examine Woyome following an announcement by the Attorney General that it has discontinued pursuing the matter.
Kweku Baako was joined on the dancing floor by NPP Central Regional Secretary, Kwamina Duncan, in celebration of the development.
Watch the video below:

According to the ruling by justice Anin Yeboah, the applicant has the right to do that because he personally came to court to get a judgment to have Mr. Woyome pay back the GHc51 million cash he received as judgment debt.
The judge also indicated that, the application was granted because there was no evidence of execution before the court by the AG presently. Mr. Amidu's action followed a move by the Attorney General's (AG) office, led by the Minister for Justice, Marietta Brew Appiah-Oppong, to discontinue an oral examination of Mr. Woyome, despite serving an earlier notice to do same.
The notice of discontinuance stated that "please take notice that the 1st Defendant Judgment Creditor [Attorney General] herein has this day [26th Day of October 2016] discontinued the present application to orally examine the 3rd Defendant Judgment Debtor [Alfred Agesi Woyome] with liberty to reapply."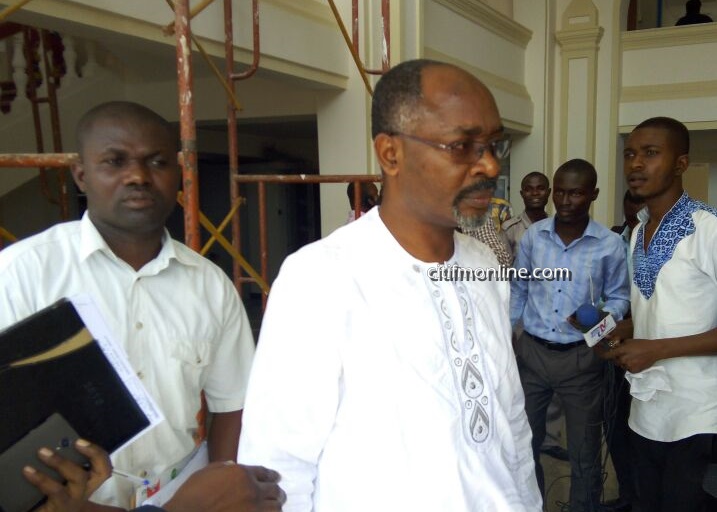 This forced Mr. Amidu to file the application in court, in which he even alleged that President Mahama had ordered a discontinuation of the case because Mr. Woyome had threatened to expose officials of government and the NDC who benefited from the amount.
The AG's office arguing against Mr. Amidu's application in court, questioned his right to examine Mr. Woyome over the matter.
Background Alfred Woyome was paid ¢51 million after he claimed that he helped Ghana to raise funds to construct stadia for purposes of hosting the CAN 2008 Nations Cup.
However an Auditor General's report released in 2010, said the amount was paid illegally to the National Democratic Congress (NDC) financier.
The Supreme Court in 2014 ordered Mr. Woyome to pay back the amount, after Mr. Martin Amidu challenged the legality of the judgment debt paid the businessman, Waterville, and Isofoton.
Following delays in retrieving the money, the Supreme Court judges unanimously granted the Attorney-General clearance to execute the court's judgment ordering Mr. Woyome to refund the cash to the state.
–
By: Jonas Nyabor/citifmonline.com/Ghana