Uber is selling its South East Asia ride-share and food delivery businesses to regional rival Grab.
The move marks a further retreat from international operations for Uber, after it sold its China business to local rival Didi Chuxing in 2016.
Both firms are describing the deal as a win for both their companies and their passengers.
Grab is South East Asia's most popular ride-sharing firm with millions of users across eight countries.
Uber will retain a 27.5% stake in the Singapore-based company. Uber's chief executive will also join Grab's board.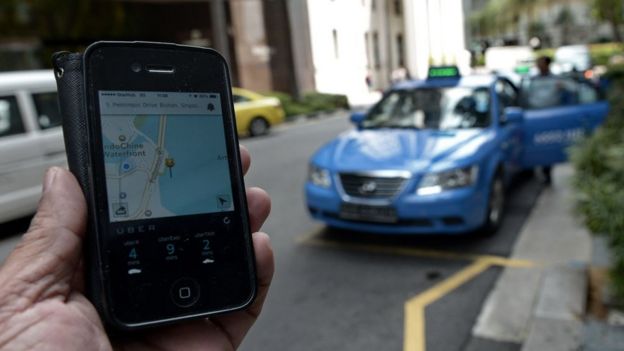 The value of the deal has not been made public.
But it includes the sale of all of Uber's operations in the region, including food delivery service Uber Eats.
Uber's chief executive Dara Khosrowshahi said this was "a testament to Uber's exceptional growth across South East Asia over the last five years".
"It will help us double down on our plans for growth as we invest heavily in our products and technology to create the best customer experience on the planet."
Grab's chief executive Anthony Tan said the acquisition "marks the beginning of a new era".
"The combined business is the leader in platform and cost efficiency in the region. Together with Uber, we are now in an even better position to fulfil our promise to outserve our customers."
Revenue hit by rivalry
Competition in the ride-hailing sector has been fierce, resulting in discounts and promotions offered to riders and drivers reducing profit margins.
But consolidation in the industry was widely expected after Japan's Softbank Group made a large investment in Uber earlier this year.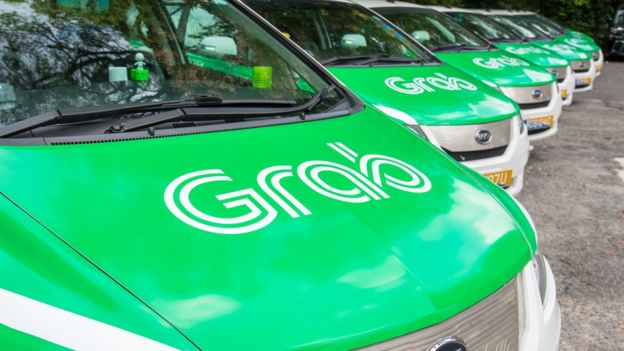 SoftBank is a major investor in several of Uber's rivals including Grab, China's Didi Chuxing and India's Ola.
It is believed to have pushed for consolidation in order to improve revenues.
Grab operates in eight countries including Singapore, Malaysia, Indonesia and Vietnam.
In an interview with the BBC in February, Grab's boss said the firm wanted to become more relevant to users' everyday lives and planned to expand its food delivery service.
"We want to be that app that allows you to buy your coffee, earn your rewards and then after that, you want to buy your lunch and order in, have your food delivered so you don't have to go through the traffic jam," Mr Tan said.
"And when you're that relevant, that real to every customer across the 600 million base, then you create huge value."
As a result of the merger, the GrabFood service will expand from two to four South East Asian countries by next quarter, Grab said in statement.
"This will be another great use case to drive continued adoption of the GrabPay mobile wallet and support Grab's growing Financial Services platform," the firm said.
Grab added that the acquisition would accelerate its path to profitability.
Last year, Uber lost $4.5bn (£3.2bn) – and its chief executive – as it underwent a fundamental shake-up following a harassment scandal.
In November, Uber's Dara Khosrowshahi, said the company's Asia operations were not going to be "profitable any time soon" and said he would like to see some changes.
The firm has also exited its Russian business, selling to local firm Yandex.
–
Source: BBC