"Watt." "What?" "Watt!" A player has been sent off after a referee mistook his name for dissent.
Referee Dean Hulme asked Sanchez Watt, who was playing for Hemel Hempstead Town, for his name as he was about to be booked in a National League South game against East Thurrock United.
The 27-year-old repeatedly replied: "Watt" but Hulme believed he was saying "what?" and sent him off for dissent.
Hulme rescinded the card when it was explained Watt was not showing dissent.
"It was a human error," Hemel Hempstead chairman Dave Boggins told BBC Sport.
"The referee was man enough to rectify it.
"I think everybody found it amusing afterwards – including the referee.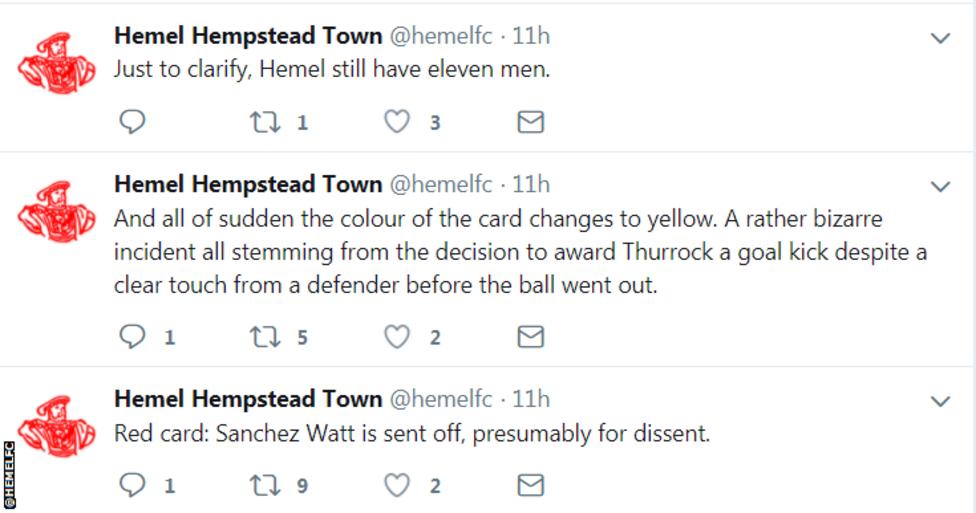 "He came into the boardroom after the game and explained how he had made the mistake.
"He was very apologetic and saw the funny side of it. He was a good ref on the night to be fair to him."
The incident happened towards the end of Hemel Hempstead's 2-0 win on Tuesday and Watt did not leave the field.
Watt played three games for Arsenal in the League Cup as an 18-year-old, scoring against West Brom in the third round at Emirates Stadium on 22 September 2009.
He has also played in the Championship for Leeds United and had spells at Sheffield Wednesday, Southend, Crawley and Colchester.
Watt is on loan at Hemel Hempstead from Isthmian League side Billericay Town.
Source: BBC Sport