Top leaders of the opposition National Democratic Congress (NDC), have stormed Parliament following reports that the House will debate the agreement seeking ratification to host a US military camp in Ghana.
The Minority Members of Parliament who have expressed their disapproval of the agreement are also clad in red armbands and headbands.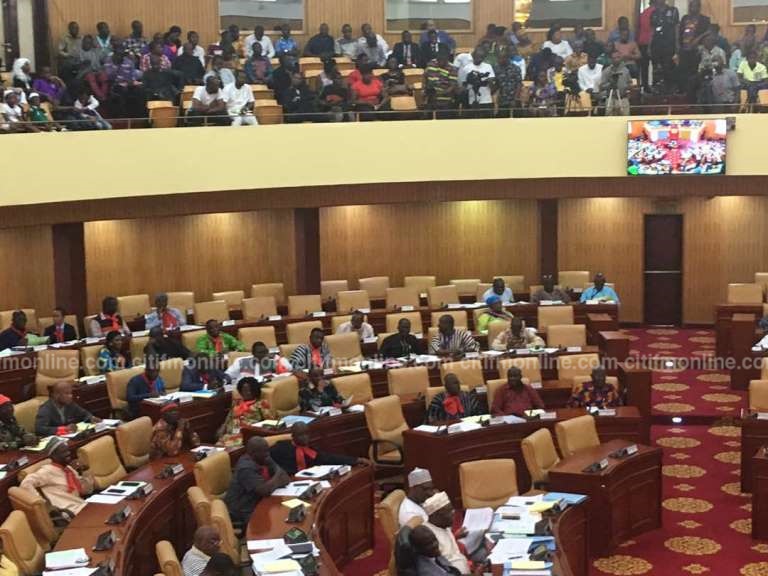 "The minority MPs are either in red armbands or red headbands," Citi News correspondent, Duke Mensah Opoku reported.
General Secretary of NDC and his deputy, Johnson Asiedu Nketia and Koku Anyidoho, NDC National Vice Chairperson, Anita Desoso among other party leaders, are currently in the public gallery of Parliament to throw their weight behind the minority MPs.
Also present is the founder and leader of the All People's Congress (APC), Hassan Ayariga.
The Minister of Defense, Dominic Nitiwul, on Tuesday laid before Parliament the document seeking to ratify an agreement for space around the Kotoka International Airport, which will serve as a camp for some US military forces in Ghana.
If approved, the agreement will among other things, exempt the US government from paying taxes on equipment that is brought to Ghana.
They will also be given the chance to set their own telecommunication system, although they will be allowed to use Ghana's radio spectrum free of charge.
Although many Ghanaians have expressed resentment over the clauses of the agreement, government had defended it and said the agreement is in the best interest of Ghana.
But the Minority has called on government to withdraw the agreement in its current form, saying it is not in the best interest of Ghana.
The Minority in Parliament on Thursday blocked the laying before Parliament, the report of the Joint Committee on Defence and Interior and Constitutional, Legal and Parliamentary Affairs, on the agreement.
In a brief protest between the two sides in Parliament today [Thursday], the leadership of the Majority said the report was ready to be laid before the House to allow for debate.
However, the Minority disagreed insisting that the report wasn't ready.
The Speaker of Parliament, Prof. Mike Oquaye subsequently ruled that the laying of the report should be skipped until the two sides can come to a consensus on it.
"If the report is ready it is ready. If it is not ready, you negotiate and if there is a negotiation and there is understanding I [will] proceed. [But] it appears there is clearly no negotiation so no progress," Prof. Oquaye said.
–
By: Godwin Akweiteh Allotey/citifmonile.com
Follow @AlloteyGodwin