Indications from the latest Afrobarometer are that majority of Ghanaians do not have full confidence in the Rule of Law to handle the upper classes of society fairly.
The report stated that 62 percent of Ghanaians feel that people are "often" or "always" treated unequally under the law.
Also, 67 percent of Ghanaians believe that officials who commit crimes are "somewhat" or "very" likely to go unpunished.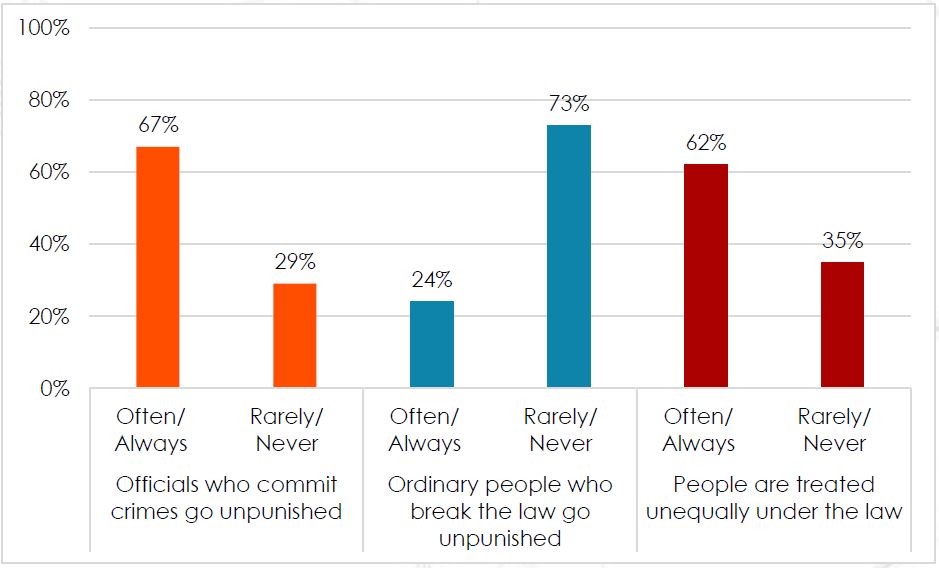 The skepticism with the Rule of Law extends to how the rich are handled, as 83 percent of Ghanaians believe that the rich are likely to be able to pay bribes or use personal connections to avoid going to court.
Aside from this, 84 and 88 percent of Ghanaians respectively believe that the rich avoid paying taxes and register land that does not belong to them.
Despite highlighting the perceived failings of the rule of law, the report indicated that Ghanaians strongly endorse rule of law.
"Most Ghanaians endorse the rule of law and the legitimacy of key state enforcement bodies, affirming that the rule of law should and in fact does anchor democratic practices in the country.
Even so, there is a widespread and growing belief that inequalities exist in how laws are applied, with the unfair advantage given to officials and the wealthy," the report said.
The full report can be viewed here
About the report
Afrobarometer is a pan-African, non-partisan research network that conducts public attitude surveys on democracy, governance, economic conditions, and related issues across more than 35 countries in Africa. Six rounds of surveys were conducted between 1999 and 2015, and Round 7 surveys (2016/2018) are currently underway. Afrobarometer conducts face-to-face interviews in the language of the respondent's choice with nationally representative samples.
The Afrobarometer team in Ghana, led by the Ghana Center for Democratic Development (CDD-Ghana), interviewed 2,400 adult Ghanaians between September 9 and 25, 2017. A sample of this size yields results with a margin of error of +/-2% at a 95% confidence level. Previous surveys have been conducted in Ghana in 1999, 2002, 2005, 2008, 2012, and 2014.
–
By: Delali Adogla-Bessa/citifmonline.com/Ghana