Supermarkets in South Africa have been clearing a popular sausage from the shelves after it was blamed for a food poisoning outbreak behind 180 deaths.
The government identified the cold meat polony as the source of the listeria poisoning – but advised consumers to avoid all ready-to-eat processed meat.
Customers have descended on the factories that made the polony, to demand a refund.
The outbreak was finally traced after infecting people for more than a year.
It is believed to have originated in an Enterprise Food factory in the northern city of Polokwane. A plant owned by RCL Foods is also under suspicion. Both firms have suspended meat production.
'It's in my kids' lunch'
There have been 948 cases of listeria poisoning reported since January 2017, according to Reuters.
The United Nations says it is believed to be the largest outbreak ever, worldwide.
In some people the disease – known as listeriosis – causes high temperatures, vomiting and diarrhoea. The elderly, people with compromised immune systems, and babies – both in the womb and newborn – are particularly vulnerable.
Some 180 of those infected have died.
Health authorities ordered a recall of polony, prompting supermarkets like Shoprite, Pick n Pay, Spar and Woolworths to clear it from their shelves, along with bacon, sausages and other processed meat products.
"I already packed my kids' lunch with this product, so I'm shocked," said Tshepo Makhura, a 37-year-old call centre agent, who had returned to one store to demand a refund.
"I lost trust with Enterprise. I'll be scared even if they say this problem is solved. I would rather go back to peanut butter and jam."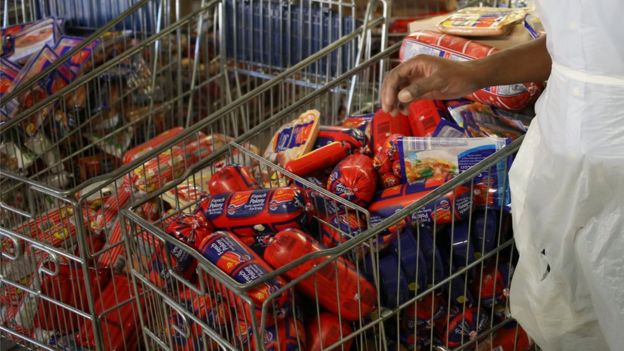 Health Minister Aaron Motsoaledi warned people to "avoid all processed meat products that are sold as ready to eat".
He told pregnant women to avoid any processed meat "like the plague", reported Times Live.
The products are also sold abroad – Zambia has demanded they be recalled there, too.
A shortage of the solution used for testing for the listeria bacteria meant the results of the tests at the Polokwane factory were delayed by two weeks, an official at the National Institute of Communicable Diseases told Times Live.
The listeria bacteria is hard to test for, as it is not homogenously distributed in food. It can also "hide away" in cracks or niches in factories.
Consumers who stored polony products in their fridges were advised to disinfect them with diluted bleach.
What is listeriosis?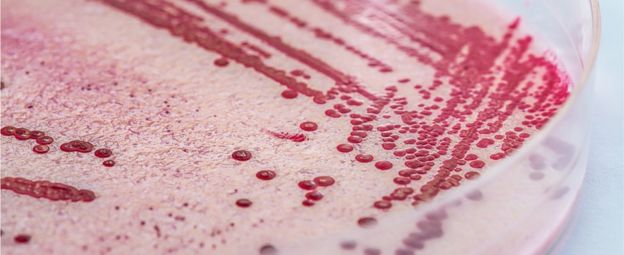 It can be caught from food containing listeria bacteria, or close contact with farm animals
Cases usually involve unpasteurised milk or dairy products, such as camembert and brie
Pre-packed foods, including sandwiches and paté, can also contain listeria
Symptoms include high temperature, flu-like symptoms, vomiting and diarrhoea
Most people infected display no symptoms, but elderly and very young people are vulnerable
–
Source: BBC