The Okyehene, Osagyefo Amotia Ofori-Panin, is angry over the decision of two residents of the area to place an interlocutory injunction on the inauguration of the newly created Abuakwa North Municipal Assembly in the Eastern Region.
"How dare you put an injunction on a government policy to make Akyem Kukurantumi the capital of Abuakwa North Municipal Assembly without petitioning the chiefs of the land. This action is a gross disrespect to the traditional council," he said.
Government could not inaugurate the Assembly last Thursday because two residents namely Agyei Boateng and Addo Sarpong had secured an injunction from a Koforidua High Court to stop the ceremony arguing against the decision to make Akyem Kukukurantumi the Municipal Capital instead of Akyem Tafo.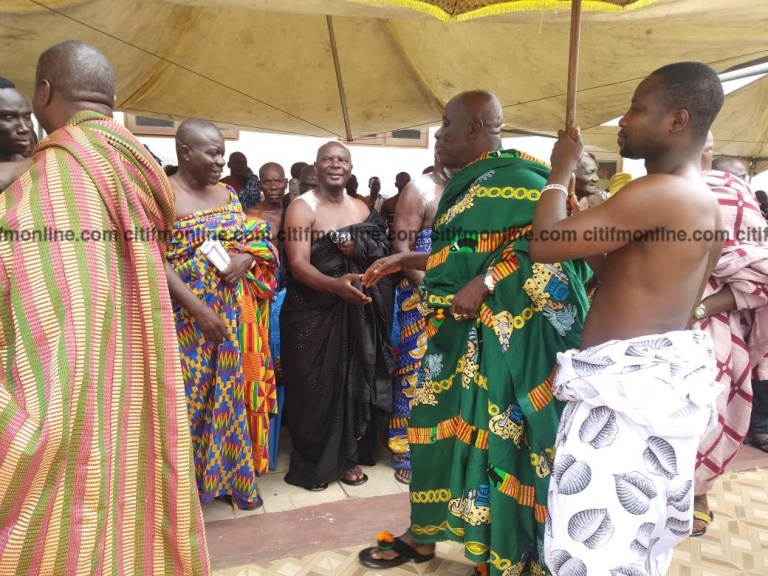 The plaintiffs contend that, Akyem Tafo is more qualified as a municipal capital than Kukurantumi considering the number of governance offices and infrastructure at Akyem Tafo.
This action prevented the Minister of Defence Dominic Nitiwul who had been sent to represent the president from performing the inaugural ceremony.
Speaking at the first State Council meeting for 2018 at Kyebi in the East Akim Municipality today [Saturday], March 17, 2018, Osagyefo Amoatia Ofori-Panin said the action of the two to mar what he described as a welcoming government policy with a court action has dented the image of the entire Abuakwa Traditional Council since the chiefs of Akyem Tafo (Osabarima Adusei Peasah iv) and Akyem Kukurantumi(Dasebre Boamah Darko), were not informed before the unfortunate thing happened.
"Who are those two who went to that extent to disgrace themselves, disgrace chiefs of Tafo and Kukurantumi, myself and even our president who is from Abuakwa. They have disrespected and disregarded our authority with impunity because they did not even see the need to inform the chiefs," the Okyehene fumed.
Osagyefo Amoatia Ofori-Panin therefore charged Osabarima Adusei Peasah iv, Akyem Tafohene, to furnish the traditional council with information on the plaintiffs for the necessary steps to be taken.
Nitiwul slams Abuakwa North residents over injunction
Defence Minister, Dominic Nitiwul, had also slammed the two plaintiffs for the court action.
"…You have struggled since 1957, and if the almighty God and the people of Ghana and blessings of the almighty God have blessed you with your son as President, all you can do is to help him succeed and not pull him down. We are inaugurating all district assemblies [nationwide] and only in the president's hometown somebody had decided to take the matter to court. Who do you think you are disgracing? Not the president, you are disgracing yourselves," he fumed.
–
By: Neil Amatey Kanarku/citifmonline.com/Ghana