Reflections on selected stories that trended on the internet in Ghana in 2017
Various kinds of abuses, especially sexual harassment in all its forms, are prevalent in many societies across the world—principally against women. The situation enkindled the #metoo campaign/movement that was launched in 2017.
By the end of 2017, the Me Too (#Metoo) movement had more than half a million tweets and hundreds talking about it on Facebook. The teeming female proponents who joined the campaign through tweets and Facebook comments are only a fraction of the many women offline who may have gone through similar experiences.
A baseline study on Women's Right Online in Ghana by the Media Foundation for West Africa (MFWA), for instance, found that about 40% of the women respondents reported experience in different forms of harassment online with almost 7 out of 10 of those women experiencing the abuses more than once.
A snapshot from Milano's twitter page
As the online world is largely a reflection of offline realities, a lot of the forms of sexual harassment reported offline are being perpetrated online globally—and Ghana is no exception.
Source: MFWA field data, 2017
As though to corroborate the findings of the study, 2017 recorded a number of online abuses against a number of Ghanaian females which trended on social media for a while. A few of them are detailed below:
Attacks/Abuses against Rashida Black
In July 2017, a nude video of a young woman who was barely an adult (18-years-old) trended. The woman, Rashida Black, had gained popularity in 2016 for another video in which she hurled insults at her boyfriend. This nude video inflamed comments that sought to attack her.
Sampled Facebook comments
While the publisher of the video was unknown, a considerable section of the public seemed to assume that the girl whose privacy had been abused was the one who put the video out. The general public sentiment on the internet over the nude video was against the girl. She was "dirty" "stinking" and "rustic" they claimed. In the end, the poor woman was arrested by the Police to answer questions on why her nude video had gone viral on the internet/social media.
 Revenge Porn against Afia Schwarzenegger
In September, a video of a popular radio and TV personality, Valentina Nana Agyeiwaa (referred to as Afia Schwarzenegger in media spaces) known to be a firebrand and an outspoken person, had been caught in bed with another man trended. The man who took the video, reported to be her husband, threatened to empty the contents of a bottle he claimed was acid on the naked body of the lady in the video. The "revenge" video generated a lot of comments on the Ghanaian cyberspace. Below is a section of comments beneath a post of a local online website which published the story.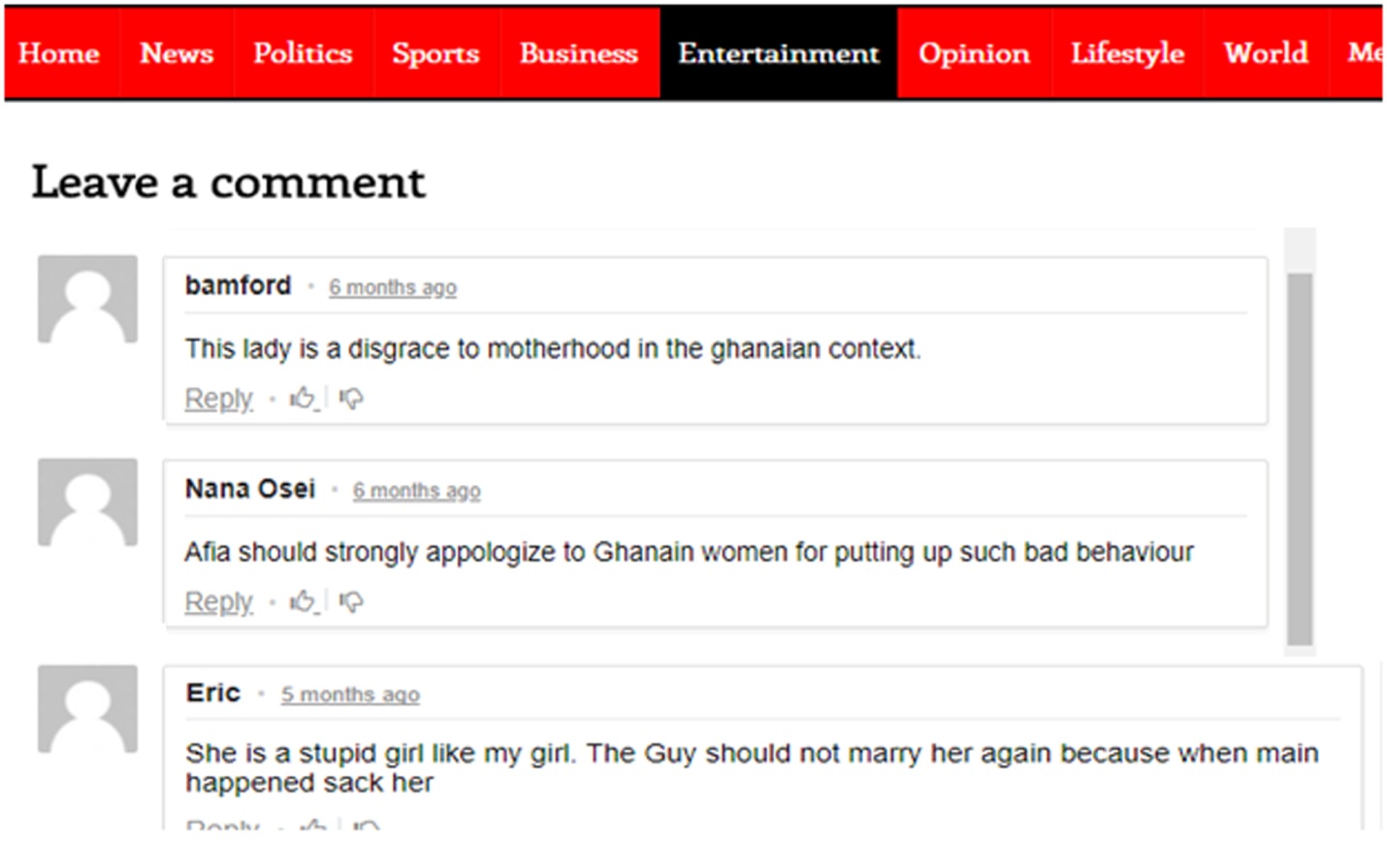 Source www.myjoyonline.com
Whilst a few posts sympathized with the victim and chastised her husband for videoing the nakedness of her former wife, many others lambasted her for being a 'prostitute' whose cup had run full.  For some, the "loud" TV personality had been silenced.
 Sexist Discrimination against Pepper Dem Ministries
Also in September 2017, Pepper Dem Ministries, an online feminist group launched their activities on Facebook.  They had charged themselves with "unlearning and learning the toxic narratives" against women and establishing a better approach to socialisation in society. Perhaps superannuating the old mantra of "women must only be seen and not heard", the group caused a lot of 'traffic' on the internet.  The internet was awash with many reactions under the hashtag #PepperDem—maybe—owing to their swift, unconventional and radical response to issues which came off as abrasive to many.
The activities of the Pepper Dem group also received a lot of flak on the social media, some of which were complete insults and ad hominem attacks. A London-based Ghanaian blogger called them a bunch of "sex-starved" women who are "unkempt, unintelligent with smelly hair". https://think.com.gh/pepper-dem-ministries-ladies-unkempt-unintelligent-with-smelly-hair-blogger-chris-vincent/
From the commentator's Facebook page
Hate Speech against Yvonne Nelson
Then in December 2017, news of Ghanaian actress, Yvonne Nelson, trended. She had kept her pregnancy from the media only to release photos (of her pregnancy and father of her child) after she had given birth. Reactions to the pictures were varied. Some people tagged her as a "husband snatcher" who must be punished by God whilst her child was called an "ugly bastard".
From the commentator's Facebook page
A snapshot from the celebrity's Instagram page
But what do women do when they are abused online? Or from whom do they take refuge when they are harassed?
According to the baseline report by the MFWA, while some of the victims block their harassers, others take caution in what they do online which could actually lead to self-censorship.  However, none of the study respondents reported the online abuses to any security agency. The few who reported did so to some friends and family members. Whereas the Domestic Violence and Victims Support Unit (DOVVSU) of the Ghana Police have received training on online violence against women, they are unable to respond adequately because they lack resources.
The growing phenomenon of transferring abuses and other sexual harassment of women to the online world need to be addressed urgently. Unfortunately, there are no clear guidelines as to the process of reporting online abuses to state security agencies and getting perpetrators duly punished.
Also, as the MFWA's baseline study shows, a number of the women rights advocacy groups or organisations do not work on women's rights in online spaces. Maybe, going forward, advocacy against harassment online against women can be intensified by these groups and even the media to help curb/curtail the menace/phenomenon.
More education /sensitization by the media and the National Commission on Civic Education may help in making women conscious of these online threats so they can take precautions. The security agencies may also need to make available information on how these challenges can be reported to them and process with dealing with the perpetrators.
By: Kwaku Krobea Asante
Email: [email protected]