Ex-FBI deputy director Andrew McCabe has given memos about conversations he had with President Donald Trump to an inquiry into alleged Russian meddling in the 2016 election, US media say.
They say the memos could support allegations that the president sought to obstruct justice.
Mr McCabe was fired from the FBI on Friday following an internal inquiry. Mr Trump had accused him of bias.
The president has also dismissed the Russia investigation as a "witch hunt".
The investigation is led by special counsel Robert Mueller, himself a former FBI director. He has so far indicted 19 people.
Also on Saturday, the president's lawyer John Dowd issued a statement saying it was time for the special counsel's investigation to end.
Why was McCabe fired?
Mr McCabe had been under internal investigation by the FBI and had already stepped down from his deputy post in January pending the review.
He was sacked just two days short of his 50 birthday on Sunday, when he was expected to retire with a federal pension.
Attorney General Jeff Sessions said the "extensive and fair investigation" had concluded that Mr McCabe "made an unauthorised disclosure to the news media and lacked candour – including under oath – on multiple occasions".
Although the decision to fire Mr McCabe was made by Mr Sessions, Mr Trump had criticised him for months.
He has publicly pointed to donations that Mr McCabe's wife, a Democrat, received from a Clinton ally when she ran unsuccessfully for the state Senate in 2015 as evidence that Mr McCabe was politically biased.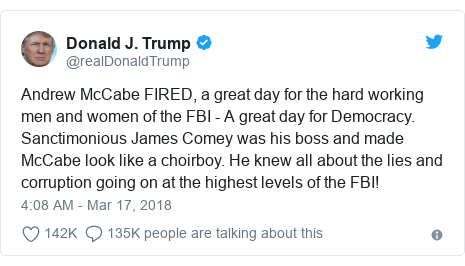 In December Mr Trump tweeted: "FBI Deputy Director Andrew McCabe is racing the clock to retire with full benefits. 90 days to go?!!!"
He welcomed the news of his dismissal almost immediately after Mr Sessions announced it, calling the move a "great day for democracy".
Mr Trump's tweet about the firing provoked an angry response from former CIA director John Brennan, who implied Mr McCabe was being made a scapegoat.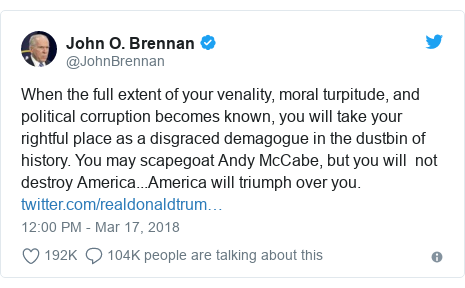 What could the memos say?
News that Mr McCabe had kept records of his conversations with Mr Trump and FBI Director at the time James Comey emerged on Saturday.
US media say the memos will support Mr Comey's account of the circumstances of his dismissal last May.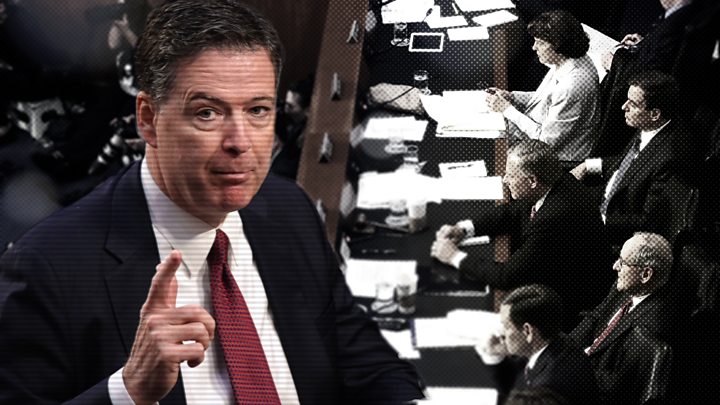 Mr Comey has testified that Mr Trump had asked him for his "loyalty" and requested he drop an inquiry into his former National Security Advisor Michael Flynn.
He too has said he kept contemporaneous notes of his dealings with the president.
In a statement responding to his firing on Friday, Mr McCabe vehemently denied wrongdoing.
"I am being singled out and treated this way because of the role I played, the actions I took, and the events I witnessed in the aftermath of the firing of James Comey," his response said.
–
Source: BBC