Large parts of Europe have endured another night of freezing conditions as a Siberian weather system continues to bring chaos.
Blizzards and heavy snowfall have closed roads, rail services and schools and forced the cancellations of hundreds of flights.
The unusually cold spell is being felt as far south as the Mediterranean.
The number of weather-related deaths rose to as many as 55 with 21 victims in Poland, most of them rough sleepers.
It triggered a warning from the World Health Organization that the poor, the homeless and migrants would be hardest hit by the big freeze.
"Those most at risk of cold-related illness include elderly people, children, and people who have chronic diseases or physical or mental limitations," it said as a statement.
Where are the problems?
The weather system has been given various nicknames – in the UK it is "the Beast from the East" while the Dutch call it the "Siberian bear" and Swedes the "snow cannon".
Snow has even appeared on the normally balmy beaches of the French Riviera.
Ireland remains braced for what is predicted to be its heaviest snowfall in decades as Storm Emma moves in from the south.
Flights in and out of Dublin airport were suspended with service disruptions expected to continue until Saturday at the earliest.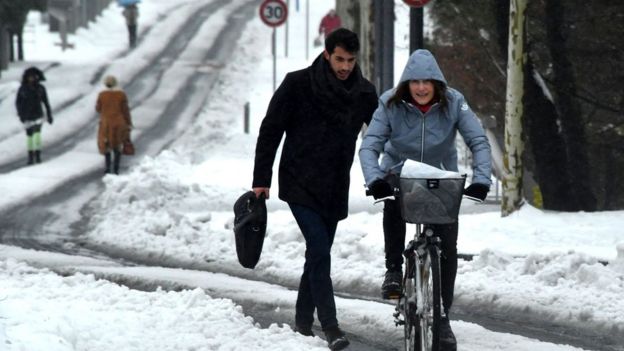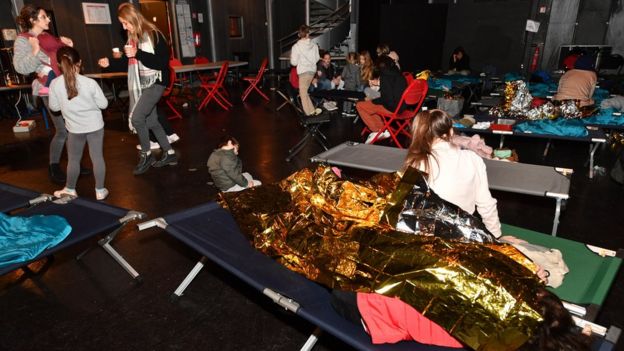 The airport in the Swiss city of Geneva was forced to shut down on Thursday morning but was reopened after the runway was cleared using snow ploughs.
In France, about 2,000 drivers were stranded on a motorway near the city of Montpellier, with some complaining of being stuck for as long as 24 hours.
Amsterdam's Schiphol Airport was also hit by freezing winds with KLM airlines cancelling or delaying dozens of flights.
Some rail services operated by Eurostar between London, Paris and Brussels were axed.
Where have the deaths been?
As well as those in Poland, weather-related casualties were reported as far south as Spain and Italy.
Seven people have died since Sunday in Slovakia, AFP news agency reports, and six more in the Czech Republic in recent days.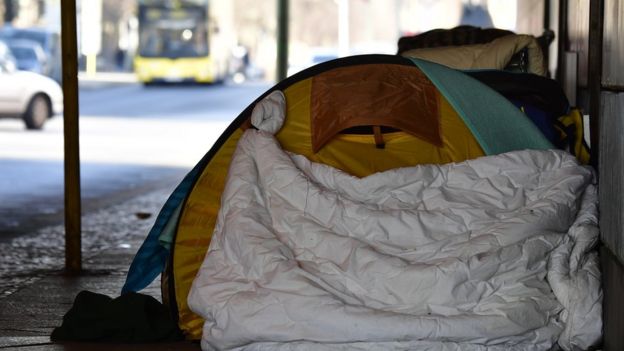 One of three victims in Spain was a homeless man who had been sleeping in an abandoned truck, officials said.
Five people were reported dead in Lithuania, four in France, two each in Serbia, Italy, Slovenia and Romania and one each in the UK and the Netherlands, AFP added.
In the French capital, Paris, authorities set up emergency shelters for the city's roughly 3,000 homeless.
What else is going on?
Ukraine, which has further snowstorms forecast in the days to come, has found itself in a fresh row with Russia over gas supplies.
The Russian state-run gas giant Gazprom said it would not restart gas shipments – expected on Thursday – because agreements had not been finalised. The shipments would have been the first from Russia since 2015.
Ukrainian energy agency Naftogaz accused Gazprom of violating contractual obligations and the European Commission later stepped in to act as a broker between the two.
Moscow and Kiev have been at loggerheads since Russia annexed Crimea from Ukraine in 2014.
What is the forecast?
Some parts of Europe are expected to see temperatures rise over the next couple of days, although Ireland and parts of southern England are braced for the effects of Storm Emma which is moving up from Portugal and France.
On Thursday, Irish Taoiseach (prime minister) Leo Varadkar urged people to stay indoors until the storm passed later on Friday.
"The risk to life and limb presented by the severe weather conditions should not be underestimated by anyone," he said following a meeting with emergency officials. "It is not safe to be outside in such conditions."
–
Source: BBC