Students of The Academy of Christ the King Senior High School at Cape Coast in the Central Region, have demonstrated against encroachers who have allegedly taken over the school's lands.
The students, who had wore red armbands on Tuesday, said they do not feel safe because they have received death threats from some of the encroachers.
"We are demonstrating because the school is not safe. Not long ago, a student was threatened by some community guys that if the headmistress does not stop protecting the school, they are going to kill the students", one student demonstrator said.
The students thus want the encroachers to stop their activities that threaten the existence of the school and the lives of teachers and students.
Another student said, "Looking at the things happening in the school, we know that learning without a peaceful environment we can't make it, so if we don't speak for our right that the land is for us, people will take up the land".
Government has awarded a contract for the construction of a twelve-unit classroom block on the school land, but the supposed violent encroachers have been frustrating the work of the of contractors.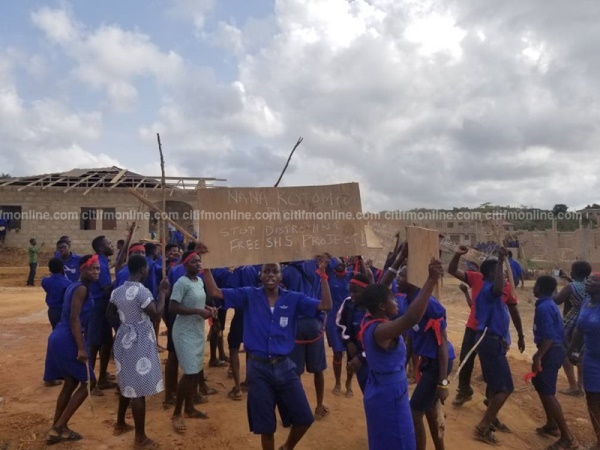 The foreman at the site said, "three or four days ago, I started the profile and the people over here came and destroyed it; I did it again with police presence, but overnight they came and destroyed it again".
The contractors have asked for security in order to continue with the project because they still fear for their lives as the threats from the local people continue.
Speaking to journalists, the Headmistress of the school, Madam Florence Siaw-Offei, lamented how the school land has reduced drastically from over 74 acres to less than 34 acres, while the school is actually occupying less than 20 acres due to encroachment.
She said the Central Regional Minister, Kwame Duncan, the Cape Coast Metropolitan Chief Executive, Ernest Arthur, and other authorities have been holding stakeholder meetings on the land saga, and some orders have been issued to the encroachers, but the threats continue.
–
By: Kwamina Ackon/citifmonline.com/Ghana