The Police Administration has said it will cooperate fully with UN investigations into allegations of sexual misconduct against some members of a Ghanaian police unit working with the UN peacekeeping mission in South Sudan.
The Police Administration has also requested the UN to allow it to send a three-man team to also look into the claims.
In a statement released after news of the allegations broke, the Police Administration conveyed "its fullest cooperation and support to investigate the alleged sexual exploitation and abuse case."
The statement added that "the Police Administration has requested the UN to permit a three-member team to be immediately deployed into the mission area for a better understanding of the incident."
The unit in question alleged to have engaged in the sexual misconduct has also been recalled, according to a statement from the UN Mission.
The UN started an investigation into the conduct of the officers after reports that they were having transactional sex with women living at one of the protection camps, with gifts or favours given in exchange for the encounters.
Some UN peacekeeping efforts have come under fire over reports of similar acts of sexual misconduct.
In the last quarter of 2017, the UN revealed that it had received 40 allegations of sexual exploitation and abuse were made against United Nations peacekeeping missions, agencies, funds and programs and implementing partners.
Of the 40 accusations, 15 were reported from peacekeeping operations, 17 came from UN agencies, funds and programs, while eight were reported by implementing partners.
Find below the full police statement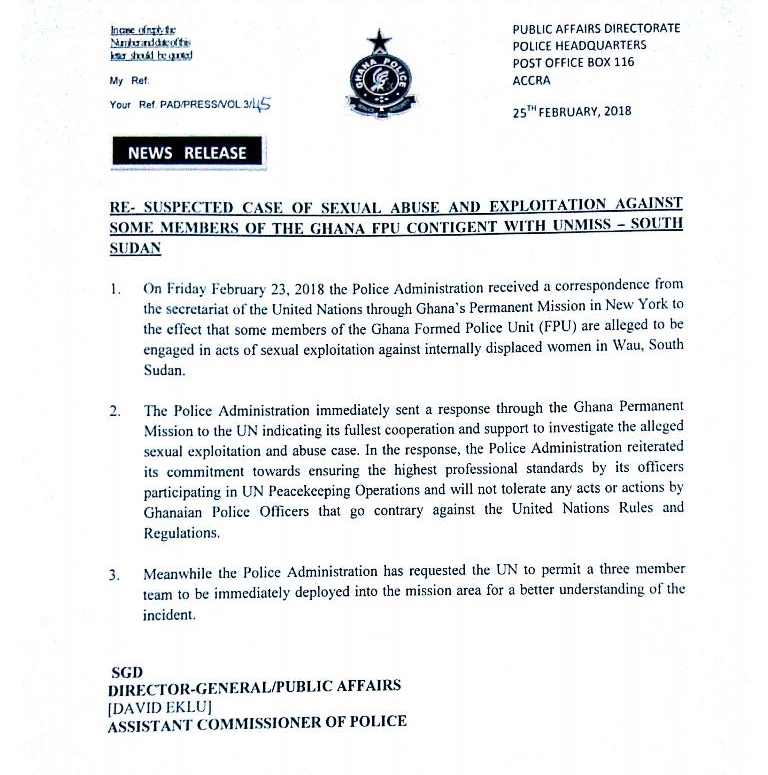 –
By: Delali Adogla-Bessa/citifmonline.com/Ghana