Pictures of Samsung's latest flagship phone have been disclosed by an app released by the firm itself.
The images were discovered hidden via a hack of Unpacked 2018, a program that the company has asked invitees to Sunday's launch of the handset in Barcelona to download.
The disclosure backs up details divulged by earlier unverified leaks about the Galaxy S9.
Experts say the revelations threaten to detract from the official unveiling.
The images of a computer-generated model of the phone were apparently created to provide an augmented reality experience at Samsung's Mobile World Congress press event, according to the news site XDA Developers.
It was first to publish the photos. It said they were sourced from an anonymous Reddit user who had decompiled the Android version of the app's software and then used the findings to fool Samsung into sharing the imagery.
"The 3D models that we obtained were lifted directly Samsung's server where they are hosted," Mishaal Rahman, XDA's editor-in-chief told the BBC.
"There's no doubt [they are real].
"I think this is the cherry on top of things… anything that is published ahead of Samsung's event is an embarrassment to them as I'm sure they wanted to keep this a secret."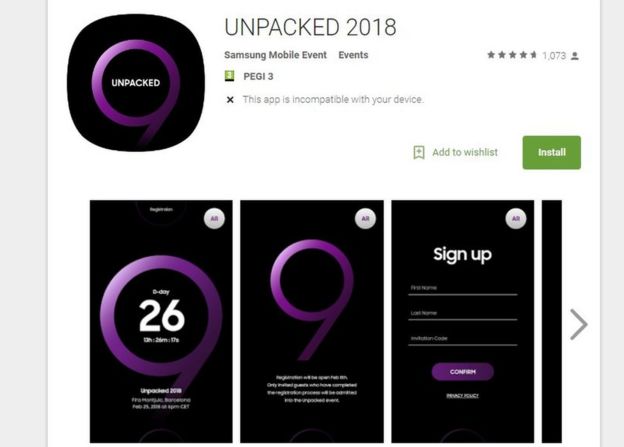 The leak confirms the device strongly resembles its predecessor the Galaxy S8 with minor tweaks, including the fingerprint sensor being moved underneath the rear camera.
A spokesman for Samsung said it did not comment on rumours or speculation.
'Particularly acute'
Venture Beat reporter Evan Blass had already tweeted several matching renders of the handset since late-January.
In addition:
the German-language site WinFuture had published dozens of pictures that appeared to have been made for the phones' marketing campaign
an image shared online, allegedly of the device's box, indicated the phones would include a dual aperture camera – meaning users will be able to adjust how much light is captured. This was supported by subsequent leaks
a Reddit user hosted a Q&A about the S9 after claiming to have handled it for 20 minutes
"This matters," commented Ben Wood from the CCS Insight consultancy.
"It's very hard to get people excited about a product that leaks suggest is more of an iterative update to the existing S8 than something more disruptive.
"The leaks seem to have been particularly acute on this occasion and may cost the firm a 'wow' moment at its event. But Samsung is not alone in having this problem."
Apple notably suffered a major leak of its own in September after two news sites were given access to iOS 11's code before its release.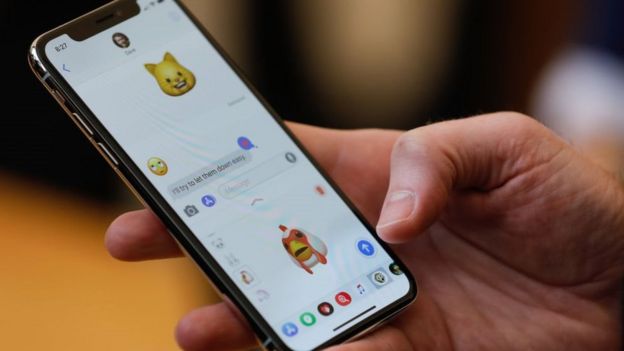 The breach confirmed many details about the iPhone X including its name, face-scanning features and animated emojis.
Claimed leaks about forthcoming Lenovo, Nokia, Asus and Sony phones have also been published online ahead of MWC – but none have been tied to the manufacturers in the way Samsung's Unpacked app has done.
Marketing frenzy
Samsung's launch is expected to be the biggest – and most expensive – at this year's MWC, which runs until Thursday 1 March.
"There is still merit in holding set-piece launch events because it offers an opportunity to deliver all the messages about the product in a controlled environment," said Mr Wood.
"For Samsung in particular, it allows it to flex its marketing muscles."
But one tech blogger, who will also be attending, cautioned against assuming everything had already been disclosed.
"Often people think they know exactly what's coming and then it turns out there's something else," said Holly Brockwell.
"A good example would be an HTC event where its phone had already leaked, and we were sitting there feeling pretty smug, and then it revealed the Vive virtual reality headset, which we didn't know anything about. That was pretty amazing.
"Anyway, a lot of these rumours become fuel to the fire and make people more excited about the launch."
Samsung has proven itself capable of keeping surprises to itself in the past.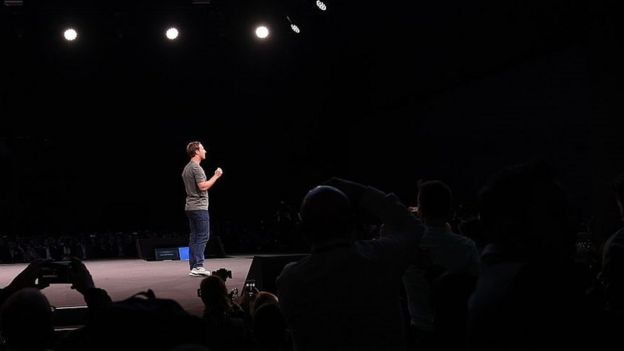 An appearance by Facebook's Mark Zuckerberg to promote its own virtual reality tech at Samsung's 2016 MWC event was kept under wraps until he entered the hall.
"That provided one of the most memorable moments of any launch in the past decade," acknowledged Mr Wood.
–
Source: BBC