A joint task force made up of the Ghana Armed Forces and Ghana Police Service has been commissioned in the Volta Region in line with the nationwide rejuvenation of "Operation Calm Life" aimed at clamping down on criminal activities in the country.
Personnel drawn from the two security agencies in the region are to be deployed to volatile zones in the region as well as areas susceptible to unlawful activities.
Patrol teams are also to keep surveillance on major roads while a satellite surveillance room connected to CCTV cameras has been stationed at the Regional Police Command to monitor human activities across the region.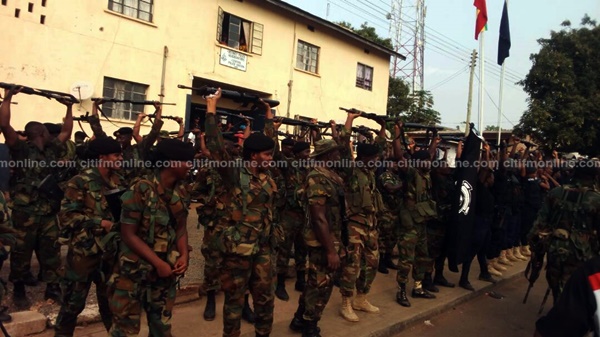 Over 200 personnel, who were present at the re-launch, were taught how to use the various technological devices available to the Joint Operation Centre and also taken through an aerobics session as a well a route march to acquaint them with the task ahead.
Speaking at the ceremony, the Volta Regional Commander ACP Asomah Hinneh said the operation would, among other things, "ensure that crimes such as robbery, drug-related offences are brought to their barest minimum" and ensure the safety of law-abiding citizens.
He said the taskforce has been equipped with the needed logistics including vehicles to ensure easy movement and improved response times to crime scenes.
The Regional Commander of the 66 artillery, Major Edward Sarpong Appiah at the event has also commended the government for its support in reactivating exercise.
He said the military would support their police counterparts to curb criminal activities in the region.
He, therefore, called on the people of Volta region to support the exercise by volunteering information that would lead to a crackdown on miscreants in their locality.
President Nana Addo in December last year launched the "Operation Calm Life" to strengthen the security agencies' efforts in fighting crimes and ensuring peace and security across the country.
The Deputy Volta Regional Minister, Maxwell Blagodzi hs pledged government's support in ensuring the exercise is carried out smoothly and with the necessary logistics.
–
By: King Nobert Akpablie/citifmonline.com/Ghana