The Minority National Democratic Congress [NDC] caucus in Parliament, showcased varying symbols of protest during President Nana Akufo-Addo's State of the Nation address today [Thursday].
A number of them were seen in black apparel, whilst others had pieces of plaster on their mouths, symbolizing some sort of gagging.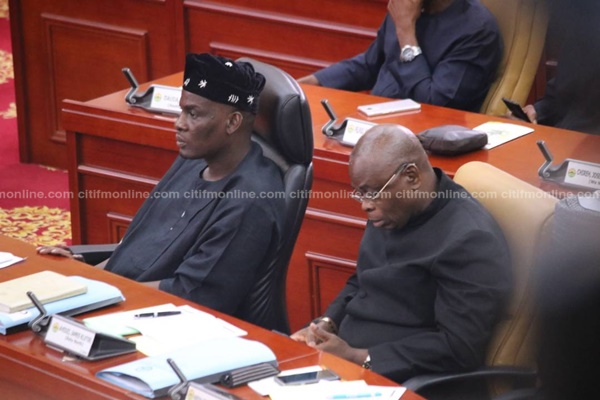 The Minority Leader, Haruna Iddrisu, was himself, wearing black traditional Dagomba wartime regalia.
During the national anthem, the Minority MPs made sure they empathized the parts of the verse that said: "…and help us to resist oppressors' rule with all our will and might for evermore."
They subsequently chanted that section of the anthem suggesting that they were resisting some form of oppression from the New Patriotic Party government.
Speaking to Citi News after the President's Address, NDC MP for Kumbungu, Ras Mubarak, explained that the NDC legislators had to voice their opposition to what they perceived to be an erosion of Ghana's democracy.
"The plaster on my lips was to express my disappointment about the rising cost of living in the country and silently to protest against fuel price increases, the increasing incidents of insecurity in the country and to let the people of Ghana know that we are unhappy about what is also happening in the country."
"…As you can see, our democracy is taking a dip. As you can see, things are not happening the way they should. The party promised the people of Ghana milk and honey from the skies. Unfortunately, we are not seeing any relief for the mothers. We are not seeing any relief for students," Ras Mubarak said.
This comes on the back of a staged walkout in Parliament on Tuesday when the 'cash for seat' investigative report was being debated in Parliament.
The Minority side said it believed the report reflected only the views of the Majority side on the Committee.
The walkout was followed by a sit-down protest on Wednesday where the Minority MPs refrained from taking part in discussions on the Floor of Parliament despite being present.
'Address of promises'
Haruna Iddrisu has described the President's State of Nation Address as 'State of Promises' after the President's address in parliament today [Thursday].
Minority Chief Whip, Mohammed Muntaka Mubarak, said the President's address was more of a campaign speech, and that all the President did was to talk about what he is going to do instead of what his outfit has done so far.
"Virtually, he was just talking as if he was on a campaign trail, still making promises…instead of him to be telling us exactly what he has been able to do in 2017, the President wasted all the time talking about what he was going to do," he said.
–
By: Delali Adogla-Bessa/citifmonline.com/Ghana