Eighteen [18] persons have received training and certification in solar thermal energy at the Koforidua Technical University [KTU] at Koforidua in the Eastern Region.
The 18 persons include lecturers and professionals from School of Mines, University of Development Studies and the Gratis Foundation.
Other renowned tertiary institutions in the country took part in a three day workshop on "Ecowas Solar Thermal Energy Capacity Building and Demonstration Program", organized by the Ecowas Centre for renewable energy and energy efficiency [ECREEE], in collaboration with the Institute of Sustainable Technologies [AEE-INTEC], and the Koforidua Technical University.
Speaking at the end of the workshop, the Vice Chancellor of the Koforidua Technical University, Professor Mrs. Smile Dzisi, who presented the certificates to the qualified participants, was very much delighted by activities and measures to promote knowledge of Solar Thermal Energy Systems in Ghana.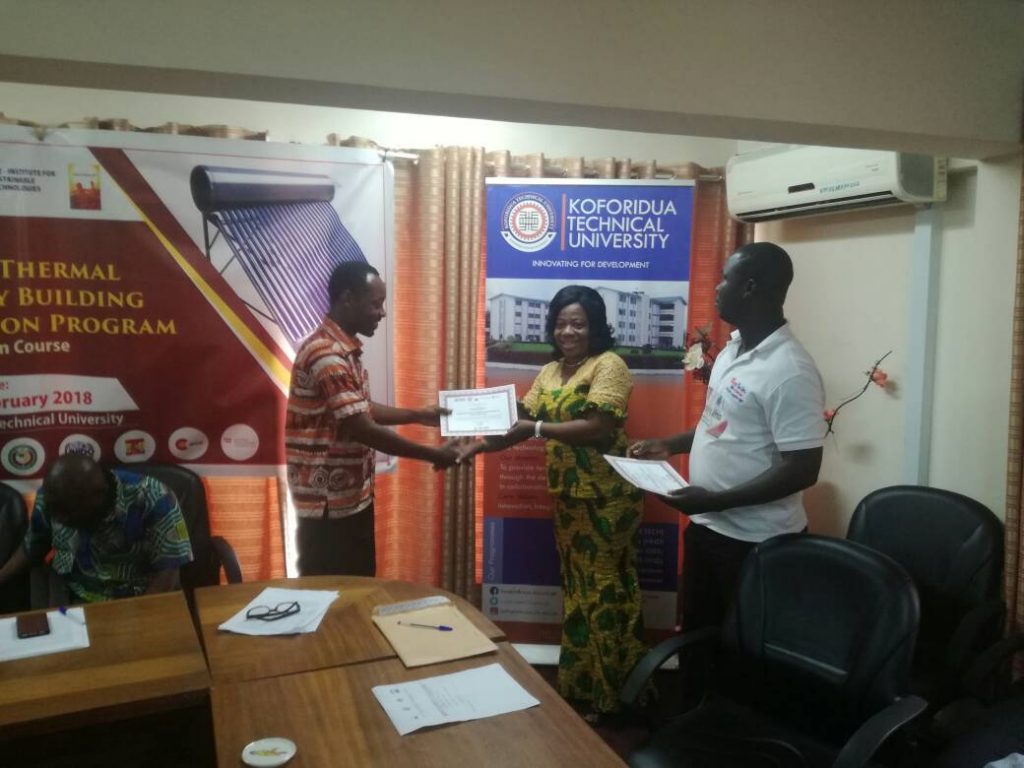 "It is unfortunate we have limited knowledge and local expertise on solar power in this country, and with the training we have received here, we are very much grateful to ECREE, Institute of sustainable technologies in Australia that are providing technical knowledge, and all what it takes to train all these participants, so they can help Ghana and move our knowledge in solar thermal energy systems to another level".
"Last year [2017], when we met here in September during the big trainers trainer workshop, which went on successfully, participants were taken through vigorous and hectic academic activities, and after their exams, these people here successfully passed their exams, and have also excelled through the second stage which they have received their certification of "Dissemination Course 1 for Experts and Professionals on Solar Thermal Energy".
Professor Mrs. Smile Dzisi, however tasked the participants to impact as many lives as possible with the knowledge and skills acquired from their training.
"I want you all to go back to your institutions and workplaces as rejuvenated, and revitalized in in-depth analysis and knowledge on solar thermal energy, and train others also for them to enhance their knowledge on solar thermal energy, because technology is changing the world, and Ghana should also take advantage of the changing trends of technology and be in line accordingly with the developed world".
–
By: Neil Nii Amatey Kanarku/citifmonline.com/Ghana