Kenyan officials have allowed two opposition supporters to fly to Zimbabwe after detaining them at an airport overnight.
Senator James Orengo and financier Jimi Wanjigi planned to attend opposition leader Morgan Tsvangirai's burial.
But officials said the pair failed to present a court order overturning an existing suspension of their passports.
Both men support Kenyan opposition leader Raila Odinga, who named himself "the people's president" last month.
There is growing concern that the government is ignoring civil liberties in response to the mock inauguration of Mr Odinga.
Unlike Mr Orengo and Mr Wanjigi, Mr Odinga was allowed to fly to Zimbabwe, without any difficulties, for the burial of Mr Tsvangirai, his long-time friend.
The Zimbabwean politician died of colon cancer on 14 February, and thousands of people are expected to attend his interment in his home village of Buhera.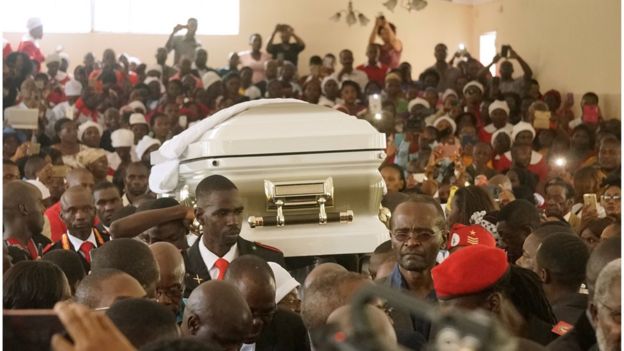 Kenyan immigration officials had held Mr Orengo and Mr Wanjigi at Jomo Kenyatta International Airport overnight on Monday after they failed to present a court order authorising them to fly.
"When the two arrived at the airport, they were requested to avail copies of the said court orders but they had none," the director of immigration services said. "Instead, they showed some writings on their phones purporting to be court orders."
On Tuesday, Mr Kihalangwa tweeted that the court orders had finally arrived and the men had been allowed to travel.
Mr Orengo has disputed Mr Kihalangwa's timeline, saying that immigration officials received the court order on Monday night.
He and Mr Wanjigi are due to leave for Zimbabwe later on Tuesday.
In recent weeks, the Kenyan government has been cracking down on supporters of Mr Odinga.
Earlier this month they deported his close aide Miguna Miguna, saying that he did not hold a Kenyan passport.
The government also took three television stations off air ahead of Mr Odinga's mock swearing-in, and kept the channels suspended in defiance of a court order overturning the ban.
–
Source: BBC