The Komfo Anokye Teaching Hospital [KATH], has honored some twenty personalities and organizations at its maiden Board Annual Reception special awards event in Kumasi.
The awardees included heads of directorates and units, as well as external philanthropists who have contributed positively to the growth of the hospital over the years.
The awardees are individuals and organizations who donated medical equipment to departments of the hospital, paid medical bills of the vulnerable, and staff members who lobbied for support from external sources to resource their units to make healthcare delivery easier.
Speaking at the event, Chief Executive Officer [CEO] of the hospital, Dr. Oheneba Owusu-Danso, the awards are purely based on the track record of the individuals and organizations in advocacy, fund-raising and resource mobilization activities that have resulted in an improvement in the healthcare delivery.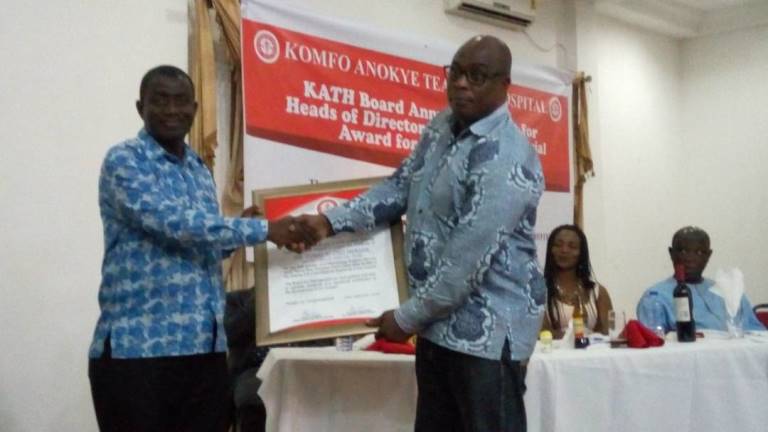 "The 20 or so awardees for this maiden edition of the awards were carefully selected on the basis of their contribution to the development of the hospital either through advocacy, lobbying, sponsorship and donations which have helped to enhance the operations of the hospital", he said.
Dr. Owusu-Danso urged the central management and the heads of directorates and units to think out of the box and adopt forward looking strategies to address some of the challenges bedeviling the operations of the hospital.
Board Chairman's remarks
Board Chairman of the hospital, Ambassador Nana Effah-Apenteng, indicated that a lot needs to be done to improve the capacity of the hospital to deliver quality clinical care.
He said it has become necessary for the Board to seek partnership with individuals and organizations to address the challenges facing the hospital since Government's ability to support the retooling and refurbishment needs of the facility has been severely constrained by other demands.
Nana Apenteng called for more support in addressing challenges facing the hospital.
All awardees were presented with certificates of appreciation.
–
By: Hafiz Tijani/citifmonline.com/Ghana