A train under rehabilitation, on Monday evening, derailed around the Ghana Ports and Harbors Authority close to the eastern gate of the Fishing Habour area in Tema, after running into a trailer.
The collision occurred at the junction of the GHACEM road on Monday evening.
An eyewitness, who gave his name as Kwesi Appiah, told Citi News that an onlooker who rushed to the scene of the crash did not find any engineer or conductor in the train after the crash.
The train, with at least six coaches, however had its engine running.
"As I speak, there is nobody in anybody of the coaches and there is nobody in the head as well. But the head has its engine and there isn't any driver or any conductor," the eyewitness said.
The Chief Executive of the Ghana Railway Authority, Richard Dombo, speaking on Eyewitness News later on, clarified that the collision occurred in a confined environment meant for the rehabilitation of old trains.
He reminded that train operations had been suspended between Tema and Accra since October 2017, following the derailment of a train at Achimota.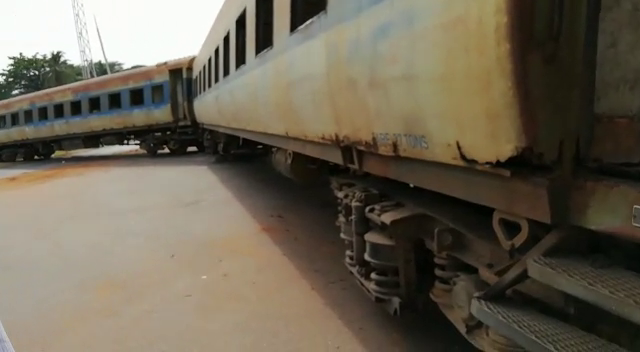 "It is not your normal coach. It is one of those that the Ghana Railway Company has taken to rehabilitate. It is one of those that is otherwise called scrap… Let this go out to the public, that no derailment as in affecting the public took place. Yes; it may have crashed into a vehicle, but that vehicle belongs to the engineering team," Mr. Dombo explained.
On the speculation that the train was running without a driver, Mr. Dombo added that initial reports indicated that the brakes of the train failed.
"It is not an automatic rain that moves on its own. In this context, it is a coach that was being rehabilitated that ought to be on its own, [supported by] an independent brake application or wedges… The brakes failed whiles it was in the shed. So when you say driverless train, it is a misrepresentation. It is as if a driver just abandoned ship and the train just went on its own way."
–
By: citifmonline.com/Ghana