Fifteen (15) percent of Ghanaians are in favour of mob justice in certain instances, according to a recent Afrobarometer survey.
This number rises to 39 percent for residents in the Upper West and Northern Regions, the report (which can be viewed here) stated.
But on the whole, 81 percent of Ghanaians are of the view that citizens must always rely on police to deal with suspected criminals.
Ghana's problem with mob justice was firmly in the spotlight in 2017 a when an officer of the 5th Infantry Battalion, Major Maxwell Mahama, was killed by a mob on his daily jogging routine in May 2017, when he was suspected of being an armed robber.
Observers have described the phenomenon of mob justice in Ghana as a manifestation of citizens frustrations with the justices system.
Political Party vigilantism
On the issue of political vigilantism, 88 percent of Ghanaians believe it is "wrong and punishable" for party vigilantes to attack government appointees whose appointment they disagree with.
Fifty-three (53) percent of Ghanaians said the government performed "fairly well" or "very well" in handling the criminal activities of political-party vigilante groups.
The past 13 months have seen consistent attacks on various state institutions by aggrieved New Patriotic Party youth groups.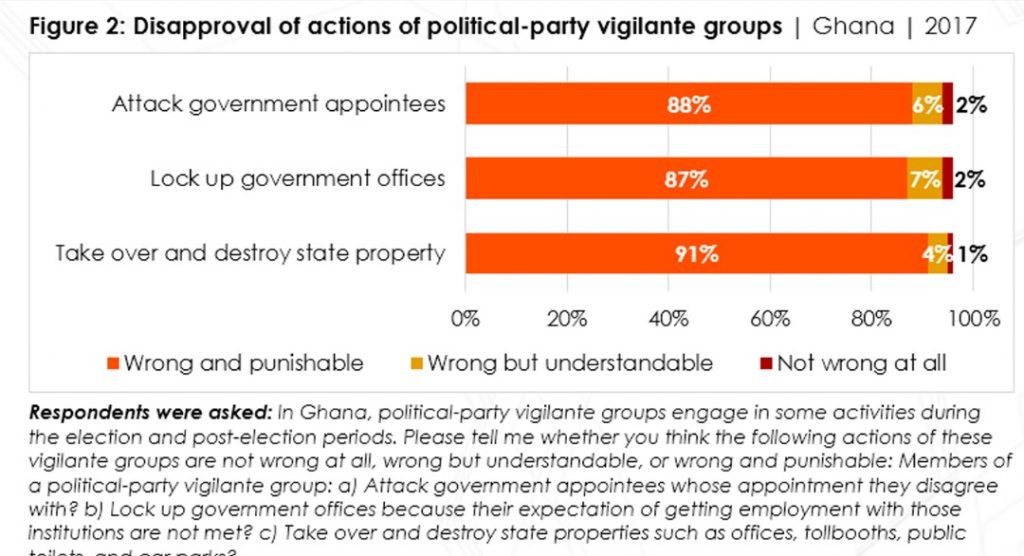 The President was recently compelled to suspend the Upper West Regional Minister, Sulemana Alhassan, over reports he obstructed the course of justice after some NPP youth besieged the offices of the Upper West Regional National Disaster Management Organization (NADMO), and assaulted the Regional Director's aide.
The suspension is likely to sit well with most Ghanaians as almost nine of 10 Ghanaians, representing 88 percent "approve" or "strongly approve" of the government prosecuting and punishing political-party vigilantes who engage in acts of lawlessness.
About the report
Afrobarometer is a pan-African, non-partisan research network that conducts public attitude surveys on democracy, governance, economic conditions, and related issues across more than 35 countries in Africa. Six rounds of surveys were conducted between 1999 and 2015, and Round 7 surveys (2016/2018) are currently underway. Afrobarometer conducts face-to-face interviews in the language of the respondent's choice with nationally representative samples.
The Afrobarometer team in Ghana, led by the Ghana Center for Democratic Development (CDD-Ghana), interviewed 2,400 adult Ghanaians between September 9 and 25, 2017. A sample of this size yields results with a margin of error of +/-2% at a 95% confidence level. Previous surveys have been conducted in Ghana in 1999, 2002, 2005, 2008, 2012, and 2014.
–
By: Delali Adogla-Bessa/citifmonline.com/Ghana