Only 500 out of the 84,000 applicants interested in joining the Ghana Immigration Service will be recruited.
This represents less than one (1%) percent intake from the vast number of applicants.
[contextly_sidebar id="0mpyzNX0CtsBCcK0VjtfOCeWcwjJjkeA"]The Immigration Service in a statement copied to citifmonline.com said it shortlisted 47,477 qualified candidates from the first phase of the selection process, and will further prune the number in the second phase.
The phase 2, a body and documentation screening exercise, which started today,Thursday, January 4, 2018, will end on Friday, January 5, 2018 with an aptitude test.
Many have suggested that the huge number of applications for recruitment into the service is an indication of the fast-growing levels of unemployment and the desire of the youth to take advantage of the vacancy to gain employment.
However, the GIS' decision to recruit only 500 persons from the lot indicates that the vacancy will not result in any significant reduction in the unemployment rate in the country.
Regional breakdown of application
Majority of the applications for this year's exercise was received from the Greater Accra Region, followed by the Ashanti and Brong Ahafo Regions.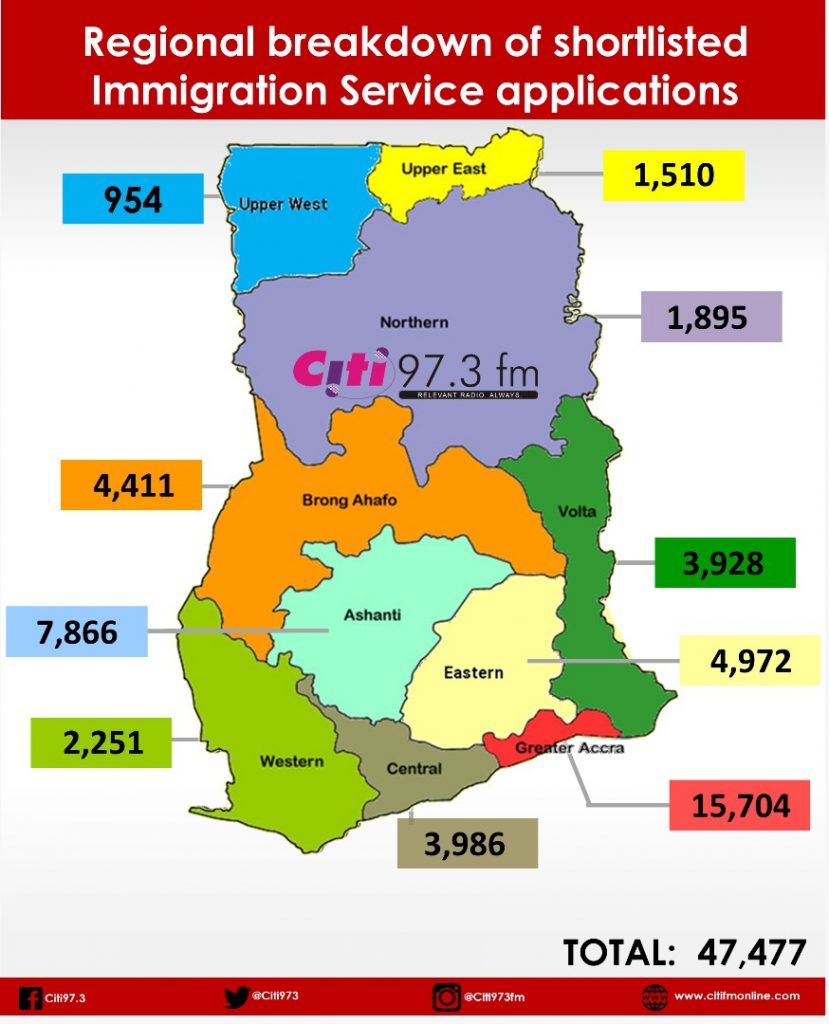 Beware of imposters
The Head of Public Affairs of the Ghana Immigration Service, Supt. Michael Amoako-Atta, said "the recruitment exercise is transparent as a possible, and it must be noted that no individual group or persons can help anybody to be enlisted into the Ghana Immigration Service."
It added that "anybody who presents himself/herself as Agent of GIS and/or middleman must be reported immediately to the Police for his/her arrest and prosecution."
Each applicant spent Ghc50 cedis during the online application process.
–
By: Jonas Nyabor/citifmonline.com/Ghana