Zimbabweans are waiting to see what steps the military will take next after seizing control of the country.
President Robert Mugabe is said to be confined to his home in Harare but unconfirmed reports says his wife Grace, who was bidding to succeed him as president, has fled to Namibia.
The military's action followed the sacking of Vice-President Emmerson Mnangagwa, a fierce rival of Mrs Mugabe.
His whereabouts are also unclear.
President Mugabe, 93, has been in control of Zimbabwe since it gained independence from Britain in 1980.
But the power struggle over who might succeed him, between Mrs Mugabe and Mr Mnangagwa, has split the ruling Zanu-PF party in recent months.
Evidence that Mrs Mugabe's circle was being pressured by the military came on Wednesday when one of her key allies made a public apology for criticising the head of the army a day earlier.
Regional bloc the Southern African Development Community (SADC) is due to hold emergency talks in Botswana on Thursday to discuss the crisis.
Zimbabwean opposition leader Tendai Biti told the BBC he wanted to see a transitional authority in place.
"It is urgent that we go back to democracy. It is urgent that we go back to legitimacy but we need a transitional period and I think, I hope, that dialogue can now be opened between the army and Zimbabweans, [that] dialogue can be opened between the army and regional bodies such as the SADC and, indeed, the African Union," he said.
There have been no reports of unrest in Zimbabwe. Correspondents say many people have accepted that President Mugabe is being eased from office. Streets in Harare are said to be quieter than usual but people are going about their business.
On Wednesday, troops and armoured vehicles encircled parliament and other key buildings.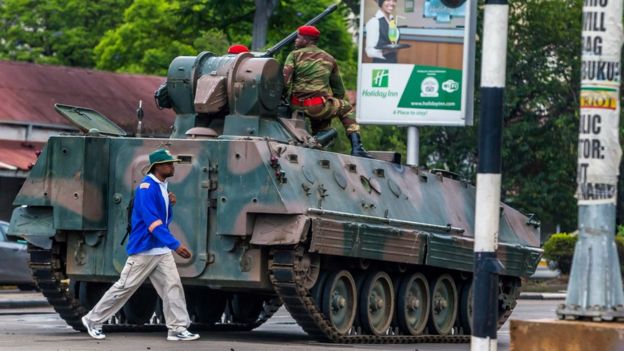 Hours earlier, soldiers took over the headquarters of national broadcaster ZBC and issued a statement saying that the military was targeting "criminals" around President Mugabe.
On national TV, Maj Gen Sibusiso Moyo denied there had been a coup, saying: "This is not a military takeover of government."
He said Mr Mugabe and his family were "safe and sound and their security is guaranteed".
"As soon as we have accomplished our mission we expect that the situation will return to normalcy," he added.
But despite the reassurances, key regional bloc the African Union (AU) said the takeover of power and the detention of President Mugabe "seemed like a coup".
South African President Jacob Zuma has reportedly dispatched senior ministers to Zimbabwe to meet President Mugabe and military leaders.
Mr Mnangagwa was removed from the vice presidency earlier this month following a call for his dismissal from Mrs Mugabe.
Tensions were raised further on Monday when army chief Gen Constantino Chiwenga said the army was prepared to act to end purges within Zanu-PF.
Gen Chiwenga is a close ally of Mr Mnangagwa and both are veterans of the 1970s war which ended white minority rule.
A strong supporter of Mrs Mugabe, Zanu-PF youth wing leader, Kudzai Chipanga, responded by saying the military should "stay in the barracks".
But following the military intervention he issued an apology to Gen Chiwenga and other top military officials, reportedly saying "we are still young and make mistakes".
–
Source: BBC