Suspended General Secretary of the governing New Patriotic Party (NPP), Kwabena Agyepong, is breathing fire on the neck of the party's Ashanti Regional Chairman Bernard Antwi Bosiako, popularly known as Chairman Wontumi, demanding an apology for some comments the latter made on public radio against him [Agyepong].
Chairman Wontumi reportedly accused Mr. Agyepong of being a traitor in an interview on a Kumasi-based radio station, Nhyira FM, and also vowed not to allow the former secretary to be re-instated.
"Over my dead body; I will never allow Kwabena Agyepong to get reinstated as the NPP general secretary. This cannot happen…. last year by this time, some people were working very hard to see the NPP lose the elections, and Kwabena Agyepong was one of them …," Wontumi reportedly said in the interview.
[contextly_sidebar id="eyDizNgnA0nex1AV2R6h1O5O1nDACkpS"]But unhappy with the comments, Mr. Agyepong is demanding a formal apology from the NPP Chairman.
In a letter through his Lawyers –Sarfo Gyamfi and Associates – and addressed to Wontumi, Mr. Agyepong asked for a retraction of the statements.
"Our client wishes to communicate to you in person that he is not a traitor, he has never been one and will never be."
Apologize by November 3 else…
"…our instructions are to demand, which we hereby do, that you immediately cease and desist from further making of such slanderous and false statements and unnecessary inciting of the general public and for that matter members of the New Patriotic Party against our client. We further demand that you through the same media used to publish the mentioned defamatory statements, retract and apologize for the defamatory and unsavory remarks on our client on both Nhyira FM and Neat FM by Friday 3rd November 2017," the letter stated.
Mr. Agyepong in the letter also demanded "a formal letter apologizing to our client and your very tacit assurance that never again will you ever conduct yourself in such an unfortunate manner."
Why Agyepong was suspended
Mr. Agyepong was suspended in December 2015 for publicly rebelling against the party's decision to indefinitely suspend the party's National Chairman, Paul Afoko.
He was suspended alongside the party's Second Vice Chairman, Sammy Crabbe.
The National Executive Committee of the party found him guilty of violating Article 3(D) of the party's constitution which enjoins members to publicly uphold the decisions of the party, through various acts.
He was also accused of engaging in "unilateral actions and activities without consultation of, or authorization by the NEC [National Executive Council]."
More NPP members demand Agyepong's reinstatement
Some members of the party recently besieged the NPP head office in Accra to demand the reinstatement of Mr. Agyepong.
The group expressed concerns that there were veiled attempts to expel Kwabena Agyapong from the party.
Below is the full letter lawyers of Agyepong wrote to Wontumi: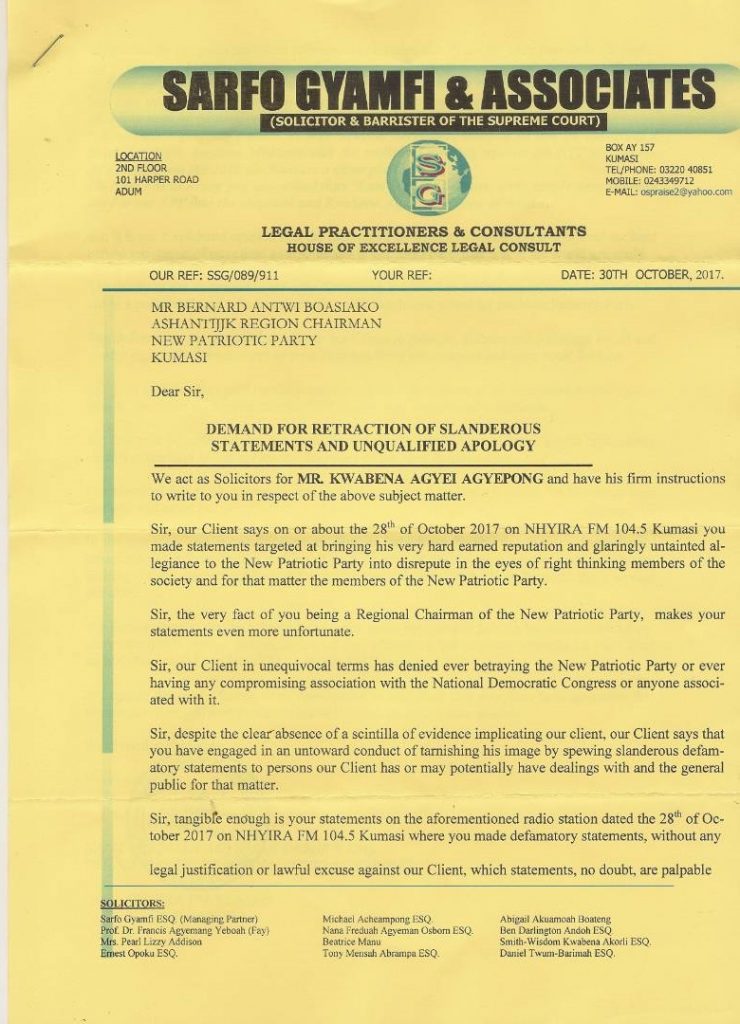 –
By: Godwin Akweiteh Allotey/citifmonline.com/Ghana
Follow @AlloteyGodwin