A 29-year-old resident of the Zenith Electoral Area in Takoradi in the Sekondi -Takoradi Metropolis, has been arrested after he reportedly set his mother's house on fire on Tuesday.
The Western Regional Public Relations Officer of the Ghana Police Service, ASP Olivia Adiku, confirmed that the suspect is in custody.
All items belonging to the suspect's mother and that of a neighbour were lost in the fire.
The young man, who has been identified only as Mawutorpe, committed the act after a misunderstanding with his mother, a retiree.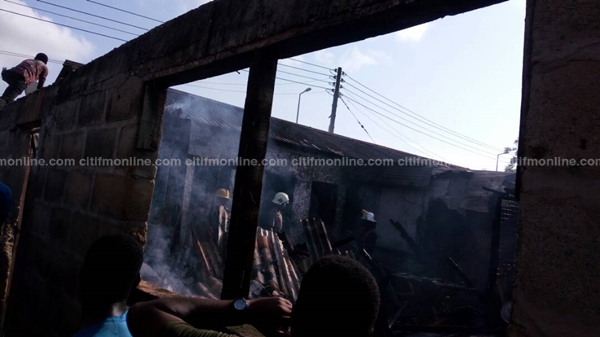 According to neighbours, the young man, who is suspected to be mentally unstable, has reportedly been terrorizing his mother and neighbours for a long time.
The neighbours have claimed that the suspect is a drug addict.
According to them, he normally exhibits wild behaviour after smoking, and in one case, he allegedly made nasty demands from the mother.
One neighbour recalled that on Monday, November, 20, 2017, he overheard Mawutorpe ask his mother to give him money to patronize the services of a commercial sex worker in the area.
The mother refused after which he went berserk and threatened to set the house on fire.
It took the timely intervention of fire personnel to prevent the fire from spreading to other houses close by.
Regina Baah, the occupant of the adjourning room narrated to Takoradi-based Skyypower FM, that she has reported the suspect to the Takoradi Police station on several occasions.
According to her, anytime the young man is picked up by the police, his mother ensures his release with the excuse that he is mentally unstable.
She also corroborated pronouncements that Mawutorpe is on hard drugs, but indicated Mawutorpe is very calm on days he doesn't smoke, and is often seen having hearty conversations with his mother and neighbours.
Unfortunately for Mrs. Baah, as she was escaping the fire, she had only a cloth wrapped around her.
–
By: Obrempon Yaw Ampofo/citifmonine.com/Ghana