The Queen of Denmark, Her Majesty Margrethe II on Friday toured some Danish business sites in Ghana as part of her three-day state visit.
She made her first stop at the Novo Nordisk Diabetes Centre at the Ga South Hospital, where she interacted with the management of the facility as well as patients who were waiting to receive medical care.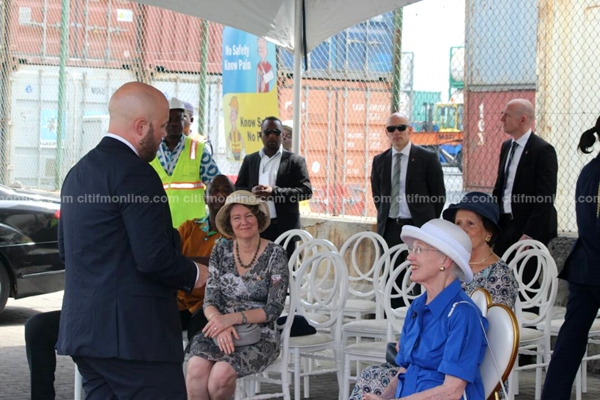 The diabetes centre at the hospital was established in 2014, as a public-private partnership between Novo Nordisk and the Ministry of Health, as part of a global program called "Base of the Pyramid".
Her second stop was at the Danish-Sweden listed company AAK at the Tema port. The Queen was given a brief on the importance of shea nuts to rural development in Ghana, and also witnessed the loading of the raw material onto a vessel bound for Denmark.
The company is a large source of shea nuts, and has been present in West Africa for close to 60 years. AAK currently has three offices in Ghana, in Tamale, Wa and Tema.
Queen Margrethe II made a brief stop at one of Ghana's most important gateways for trade, the MPS Container Terminal, which is a partnership between Danish Shipping and logistics conglomerate Maersk, the French Logistics company Bollore, and the government of Ghana.
She rounded up her tour of the Tema Port with a visit to the 1.5billion USD port expansion project site.
Later in the day, she joined a garden of reception at the Residence of the Ambassador of Denmark where she met the Danes currently living in Ghana.
She is expected to end her state visit to Ghana today, Saturday, with some outlined activities.
–
By: Anass S. Seidu/citifmonline.com/Ghana