The Happy Sunshine Company, producers of La Vonce tomato paste, has started operating again, though it is yet to receive all the needed documentation from the Environmental Protection Agency (EPA).
Residents at Korleman City, an estate at Kuntunse in the Ga West Municipality, have raised concerns about how the activities of the company are affecting them.
The residents first raised concerns over the possible long-term health hazards, following the improper disposal of waste by operators of the factory.
Thick smoke fills the air during the company's operation both during the day and at night, with excessive noise.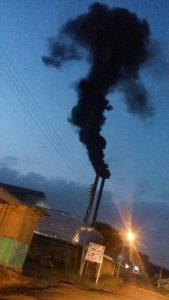 Independent investigations by the EPA revealed that, the tomato factory was operating illegally and the agency proceeded to fine the company GHc15,000.
The company was also ordered to halt any form of production.
The factory, which belongs to some Chinese expatriates, stopped operating for a while, but has now resumed full production again.
Alhough the Happy Sunshine company operates within the jurisdiction of the Ga West Municipal Assembly, the assembly has refused to comment on the matter.
–
By: Naa Kwaamah Siaw-Marfo/citifmonline.com/Ghana