Boeing kicked off the first day of the Dubai Airshow by announcing the first big sales news of the five-day event.
Emirates has ordered 40 Boeing 787 Dreamliners in a deal worth about $15bn (£11.3bn) at list prices.
The Dubai airline's chairman, Sheikh Ahmed bin Saeed al-Maktoum, said the aircraft had been chosen over the Airbus A350.
He had been expected to announce a big order for the Airbus A380 superjumbo at the media briefing.
Airbus desperately needs more orders for the A380, the biggest passenger aircraft in the skies.
The Franco-German company and Emirates were understood to be in intense final negotiations to have an announcement ready for this week's show.
Emirates, the largest airline in the Middle East, is already the biggest customer for Boeing's 777, with 165 in service and another 164 on order.
Sheikh Ahmed said Sunday's order raises the cost of its purchase of Boeing aircraft to $90bn. Some of the new 787s will be used to replace older planes, while others will be used to expand the airline's network.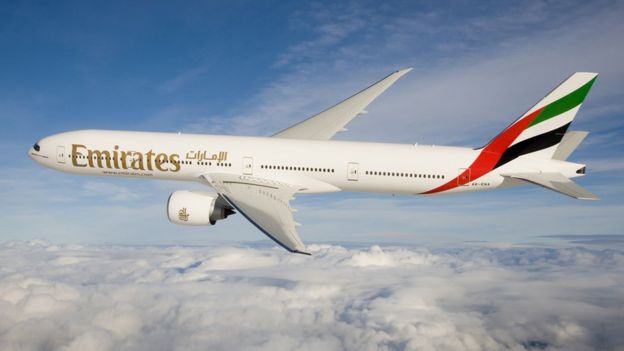 Boeing welcomed the deal, which Kevin McAllister, head of its commercial aviation division, said would sustain many jobs in the United States.
Deliveries of the aircraft are scheduled to start in 2022.
Also on Sunday, Azerbaijan Airlines said it was buying five Dreamliners, as well as two Boeing freighters, in a deal worth an estimated $2bn.
Amid the display of military hardware and the latest civil aircraft, it is the traditional rivalry of Boeing and Airbus that grabs the airshow headlines.
So far this year, Boeing has won about 65% of the new orders placed for aircraft globally.
Neither Emirates nor Airbus would comment on the status of the rumoured A380 order, which would help protect jobs at the aircraft manufacturer's plant in north Wales, where the wings are made.
Emirates has been the biggest customer for the A380, having bought 142 of the almost 320 that are in service or on the production line. The last order for the superjumbo came two years ago, when Japan's ANA purchased just three planes.
In July Airbus said it would again cut annual production of the A380 from 12 to eight. Two years ago Airbus was making 28 planes a year.
–
Source: BBC