Ghana's Ambassador to Denmark, Her Excellency Mrs. Amerley Ollenu Awua-Asamoa, has appealed to skilled Ghanaians in Denmark to return home as often as possible, to support Ghana's development Agenda.
Speaking to Citi Business News in Copenhagen, at a reception by her office to welcome four Ghanaian journalists on a press trip at the invitation of the Danish Government, Her Excellency Mrs. Amerley Ollenu Awua-Asamoa, said Government's policy of diaspora engagement is aimed at attracting Ghana's high quality manpower to help bring home the needed investment to drive the government's industrialization agenda.
"Looking at the government initiative or policy on diaspora engagements where we think most of the Ghanaians in the diaspora are intellectuals and have been here for some time, we need them to come home to help build the economy. And in that sense, as far as our Mission is concerned, we want to engage the diaspora, collaborate and network with them to bring investors back home. We want them to bring their skills and technical know-how to assist the Ghanaian community. Forming partnerships with foreign countries is a win-win situation, and we believe they know our culture very well, so if they have any skills, this is the time to come and assist in transforming Ghana."
The Ambassador also expressed optimism that the visit of the Queen of Denmark to Ghana would go a long way to strengthen the Ghana beyond Aid agenda.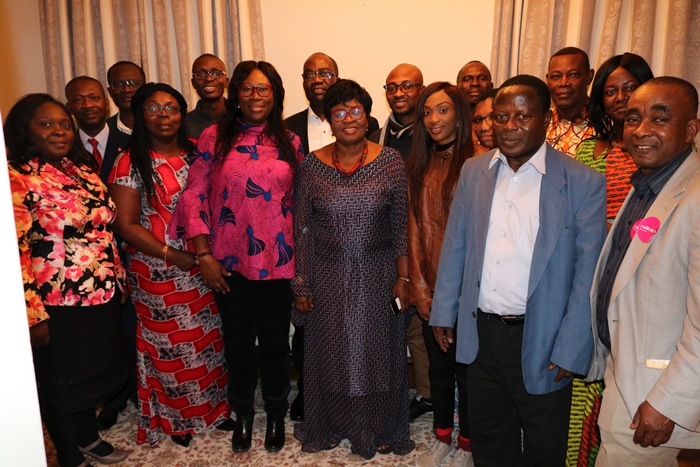 "We are very excited that the Queen is visiting Ghana because it's very historic. She ha
s never been to West Africa, and she has selected Ghana and so it means a lot to us. It's a big privilege for us. And looking at it from the perspective that Ghana is moving from aid to trade, and Denmark is also transiting from aid to trade as far as her development partners are concerned, for us, it's a very positive idea" he noted.
Expensive visas making trips home difficult – Ghanaians in Demark
However, speaking at the residence the Ghanaian Ambassador, a Ghanaian IT Consultant in Denmark, Kwame Owusu Danquah, blamed the high cost of visas for their inability to come home often to contribute their quota to national development.
Kwame Owusu Danquah, who's also the President of the Ghanaian Akan community in Denmark, thus called on the government to ease the cost of acquiring visas for people of Ghanaian descent to enable them and their families return to the country with ease.
"Most of us have acquired other nationalities although our heart is Ghanaian and we would very much like to come to Ghana. We come [to Ghana] often, but another thing is that, the government should help us to come more often by reducing the visa fees which are quite expensive."
Speaking to Citi FM's Bernard Avle who's in Denmark alongside three other journalists ahead of a visit by the Danish Queen to Ghana, Owusu Danquah said persons like him remained Ghanaian at heart despite having acquired other nationalities.
"If you and your wife and two children are coming, it is very expensive," Mr. Danquah noted further.
He pointed to the example of India as one country that makes it easy for its citizens in the diaspora to contribute immensely to the country's economic fortunes, and said if the government "opens the doors, we will come."
"We are ready and we have a lot of resources. We would like to contribute. We are Ghanaians and we would like to come back [home]," Mr. Danquah affirmed.
Danish queen's visit
Citi FM's reports from Denmark come ahead of the official State Visit of Denmark's Head of State, Her Majesty the Queen Margrethe II, from November 23 to November 24.
The 3-day press trip to Denmark was organised for four selected Ghanaian journalists, including Citi Breakfast Show host, Bernard Koku Avle.
The press trip will be capped with a press conference with Queen Margrethe II.
The Queen, on her eventual historic visit to Ghana, is expected to be accompanied by a Danish business delegation within three focus sectors, namely food & agriculture, sustainability, maritime, infrastructure and railways.
–
By: Ebenezer Afanyi Dadzie/citifmonline.com/Ghana