The Archbishop of York has put on a dog collar for the first time in almost 10 years, ending his symbolic protest over Robert Mugabe's leadership of Zimbabwe.
In December 2007, Dr John Sentamu cut up his dog collar live on BBC One's Andrew Marr Show, promising not to wear one until Mr Mugabe left office.
He said Zimbabwe's leader had "taken people's identity" and "cut it to pieces", prompting him to do the same.
On Sunday, he returned to the Marr Show and reinstated his collar as promised.
Mr Mugabe left office dramatically on Tuesday after 37 years of authoritarian rule.
Dr Sentamu said: "Normally I [would] tie the top button and put on my collar, but for nearly 10 years I haven't be able to. It has meant every morning I think of the people of Zimbabwe."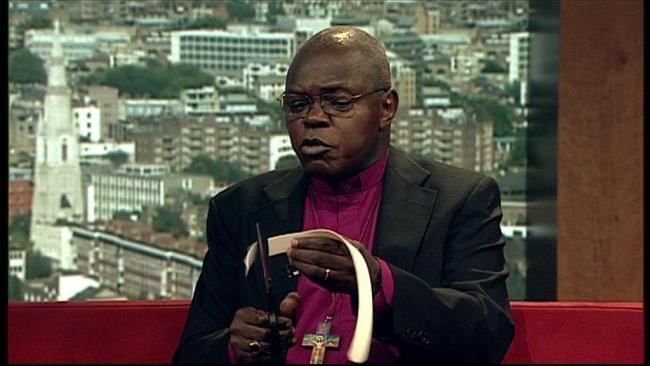 After Andrew Marr presented him with an envelope containing the cut up pieces of his collar, Dr Sentamu said: "You've been a very faithful friend, you've kept them – that's lovely.
"I could attempt to put this one back together using superglue, but it would be a pretty ropey collar. And I actually think the message for Zimbabwe is the same. They just can't try and stitch it up. Something more radical, something new needs to happen."
He said Mr Mugabe may have gone, but the new President Emmerson Mnangagwa – who was sworn in on Friday – was "still implicated in a lot of things".
Although Mr Mnangagwa has unseated Zimbabwe's long-time ruler, he is still associated by many with some of the worst atrocities committed under the ruling Zanu-PF party since the country gained independence in 1980.
Dr Sentamu added: "It's quite possible that Mnangagwa could be a very, very good president. But he can't simply bury the past – it won't go away."
He also said it could be possible for Zimbabweans to forgive Mr Mugabe.
"Mugabe needs to say at some point to Zimbabweans: 'Forgive me'. He's a very, very intelligent man and I think he is capable of doing it."
–
Source: BBC