The infrastructure deficit is a major challenge associated with the implementation of the Free Senior  High School programme.
This situation has compelled some school authorities across the country to convert dining halls and in some cases classroom blocks into dormitories, to accommodate beneficiaries of the programme.
Tamale Vitting Senior High School in the Northern Region is one of such schools where students are compelled to sleep under trees, on the veranda of the school library and in classrooms.
It is one of the most densely populated second cycle institutions in the Tamale Metropolis, located off the Tamale-Yendi Highway.
With a population of 1,400 boarding students, the school has only five overcrowded and dilapidated dormitories, comprising four for male and one for female students.
The overcrowded boys' dormitories namely Dakpema,  Vitting, Nkrumah and Gbewaa, have cracked walls, leaked roofing and broken windows.
The implementation of the free SHS has worsened the situation compelling final year students to sacrifice their beds for some beneficiaries of the programme.
Those sleeping in the open are exposed to mosquitoes, and other reptiles coupled with the dusty and moist harmattan weather.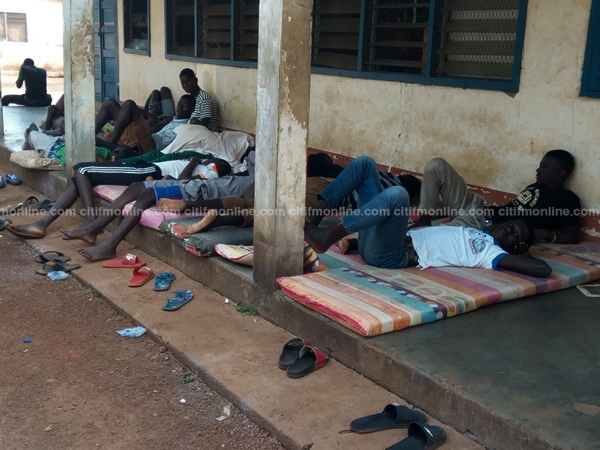 The female students share beds, while some sleep on the bare floor.
Some of the frustrated students in a Citi News interview, cried for help, saying, "Our school lacks dormitories, classroom blocks,  entertainment and dining halls. Government should help us."
"Our dining hall is meant for eating, but some of us are sleeping there and even in the school  Mosque. Our dining  hall, we go there in batches to eat."
"We are appealing to the highest authorities to come to our aid,  we are suffering."
The school shares boundaries with Ghana Senior High School (Ghanasco), and the Dabokpa Secondary/Technical school.
The dire situation at Tamale Vitting Senior High School, comes to the fore few days after Citi News reported about how students of Three Town Senior High School in Denu, Volta Region, now resort to makeshift classrooms under trees, to host students for lessons due to the lack suitable classroom facilities.
–
By: Abdul Karim Naatogmah/citifmonline.com/Ghana