The National Investment Bank (NIB), has launched RIA Money Transfer. This adds to its array of international money transfer services offered by the Bank, and provides its numerous customers unlimited access to remittances from across the globe.
RIA, the world's third largest money transfer company with over 324,000 network locations in 146 countries, brings to customers of the Bank much faster, more secure and highly reliable access to transfers from loved ones around the world.
Speaking at the launch, Managing Director/Chief Executive Officer of NIB, Dr. John Kweku Asamoah, said the partnership between the two institutions would bring enormous benefits to the millions of customers as "RIA is a key player in an industry that moves more than 575 billion dollars each year.
Money Transfer Services as you would all agree, has for many years served as one of the quickest, safest and most convenient mode of cash transfer from abroad" he noted.
2016 records show that, remittances sent home by international migrants from developing countries that year, reached over 429 billion dollars. This figure is expected to reach about 459 billion dollars by the end of 2018.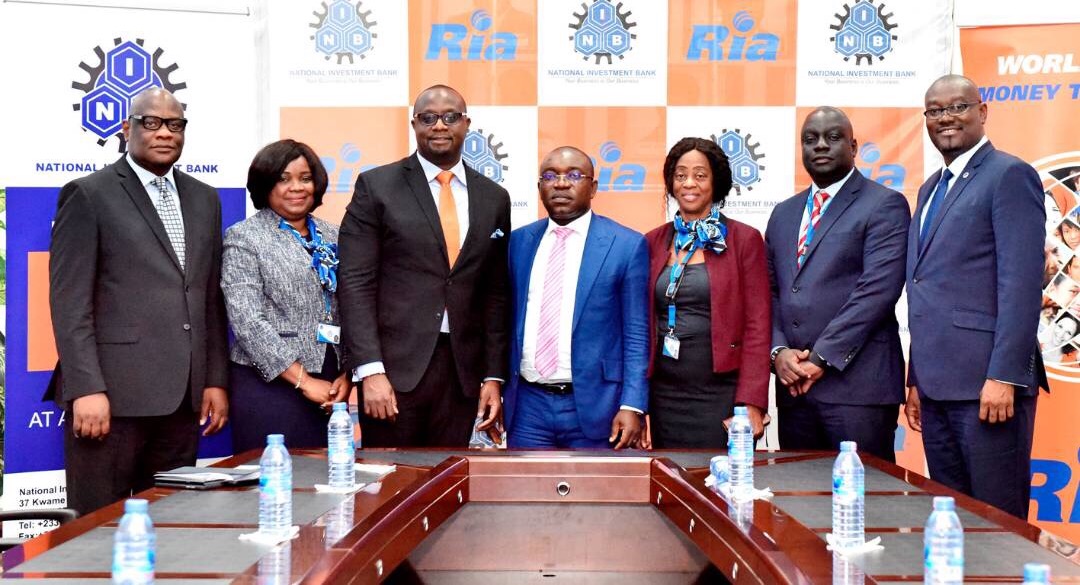 Dr. Asamoah said he is confident "the partnership will to a large extent, help the Bank achieve at least one of its core values, Customer Service Excellence, as it will enable our clients have almost-instant access to their remittances."
"Many of our customers rely on transfers from spouses, parents, guardians, siblings, among others, to make a living, hence reliable service in transfers is crucial in every way for such customers."
Also speaking at the launch, Operations Director of RIA for Africa, Mr. Robert Kotei, said RIA Money Transfer is now well-positioned to offer customers excellent remittance payment services, following the recent harmonization of prices and the expansion of the NIB branch network.
He indicated RIA's commitment to work with NIB "to ensure that this partnership continues to make our esteemed customers happy, while bringing good contributions to the bottom-line of both institutions."
Mr. Kotei also urged NIB customers to "take advantage of the convenience of sending funds directly to your accounts as RIA Money Transfer makes this happen Fast, Secure and Economical."
–
Source: citifmonline.com/Ghana