Following her win of Citi FM's Literacy Challenge, 2017 edition, Christ the King School's Krystyn Naa Adoley Bruce, has been honoured with a colourful reception by students and teachers of the school during mass on Tuesday.
She displayed her medals and GHc 10,000 in winnings from the competition before the school to rapturous applause.
The Assistant Headmaster in charge of Administration at the Christ the King School, James Mensah, who was excited about Krystyn Bruce's win revealed to Citi News earlier that he was optimistic from the very beginning of the competition that she would carry the day on Saturday.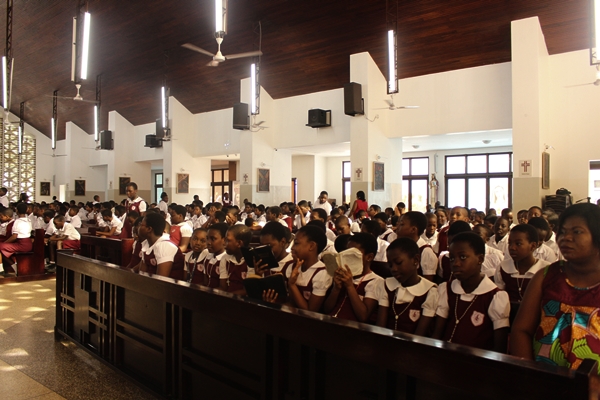 "I've been here for almost five years. I've known Krystyn for those five years. She's been one of our brilliant students, highly challenging. She doesn't take 'no' or 'yes' as an answer; she wants to probe further and she's very curious. … I wasn't surprised. We told them to participate in The Literacy Challenge and I knew she was going to make a mark. It wasn't a surprise to me at all, and when she was successfully in the top 50, I knew she would win the ultimate prize. We had two of them within the 50, and I gave my thumbs up for her because I knew she was going to make it," he said.
Speaking to citifmonline.com, the winner, Naa Adoley, named contributors to her great success, naming hard work as the outstanding, saying, "There's a lot of hard work here. The teachers are always encouraging us to work hard. The teachers themselves are very hard-working. They always expect the best from us, and then they also challenge us a lot. It's not just the routine come to the classroom; you go home; that kind of thing. They challenge us a lot. So I think that's one thing that has helped me to win this competition."
"There are a lot of activities which we do here, which require leadership skills and they teach us how to talk in public and all. With the debate team, we are taught how to stand in front of a lot people and talk well," she added.
Miss Bruce, still naming contributing factors of her big achievement, acknowledged the numerous leadership roles she has being holding in the school.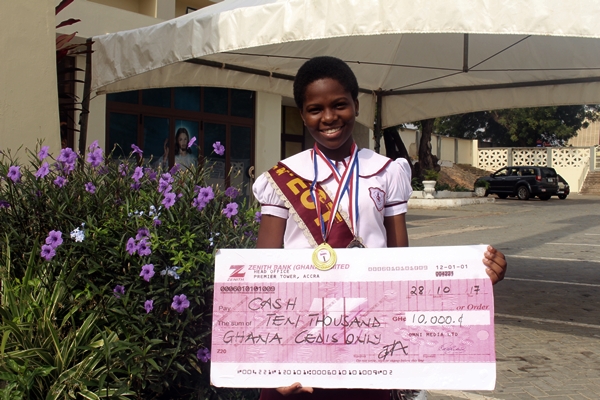 "I've held a lot of leadership positions in this school since Class 3, so it has taught me a lot of leadership skills. I was the class prefect from Class 3 till Class 6. In Class 6, I was the junior school prefect. In Form 2, I was the Academic Prefect which I still hold. It's mostly leadership skills that I have acquired all through my journey at CTK," she said.
Krystyn also mentioned some vital qualities the many positions, which she has held so far, have taught her.
"They put us in a lot of positions which require leadership. This has taught me a lot; number one is tolerance because there are people in the class that you must learn how to relate to so that you're able to do your work effectively. You must be able to learn how to tolerate everyone, be very patient and learn how to be a people person," the 14-year-old revealed.
Some of her friends, who spoke about Krystyn, had only nice things to say.
"It feels cool sitting by a super star. Her winning the competition has inspired me to do more academically. Krystyn is good and she's entertaining. She's real. She also inspires and helps sometimes," Mawuli Beckley, her sitting partner, said.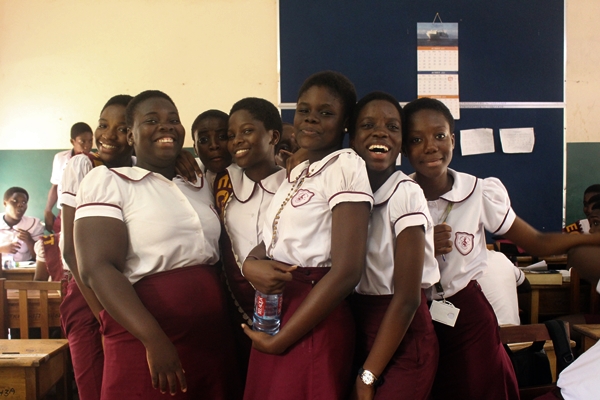 Boahemaa Asare-Twerefour, one of Krystyn's close friends and the Assistant Protocol Prefect, described her as "a nice person. She's kind. She's caring. She's fun but sometimes, she can be annoying. She's also smart. She's good when it comes to academics."
Boahemaa, who has shared a class with Krystyn since Kindergarten, also said she wasn't surprised when her friend made it all the way to the finals and emerged the ultimate winner.
"It's actually great because she could do it. We all expected it, and we all knew that she could do it so it didn't come as a surprise at all."
Krystyn Naa Adoley Bruce, a JHS 3 pupil of the Christ the King School in Accra, was on Saturday, October 28, pronounced the overall winner of The Literacy Challenge, 2017.
She walked away with GH¢ 10,000 cash and other prizes from sponsors. The Christ the King Mission School, which is nurturing Krystyn Naa Adoley Bruce, is one of the oldest and renowned basic schools in Accra, that has produced some brilliant children.
The school is over sixty years old.
–
By: Akosua Ofewaa Opoku/citifmonline.com/Ghana