Former President John Mahama has said the election ongoing in Liberia has generally been peaceful.
John Mahama, who is leading an ECOWAS Observer Mission to monitor the election in that country, told the media that although there were few hitches and late start of voting in some polling centers, the process has been "so far so good."
"Of course, every electoral system has some glitches, but as the day goes on, they resolve the issue. In a few polling stations they didn't start on time, they started around 8:30am. In the places that we have visited, it looks like the process is ongoing now."
Liberians are currently casting their ballots to elect a new president and legislators for the country.
This is the third time Liberians are going to the polls after the war that ravaged the country.
The incumbent president, Ellen Johnson Sirleaf — Africa's first female president — is ineligible to run this time because she has exhausted the limits on the constitutionally mandated term.
"In the run-up to the election, there were complaints about the late training of presiding officers and electoral officers, and its beginning to show. In some stations, you find that the electoral officers are very confident and they know what they are doing, but in other stations, they were a bit on unsure what to do. But otherwise, I think that the glitches are largely resolved and you can see that the process is ongoing. Of course the queues are long, I'm sure that if the process is quickened, by late afternoon a lot of people should have had the opportunity to vote," John Mahama added.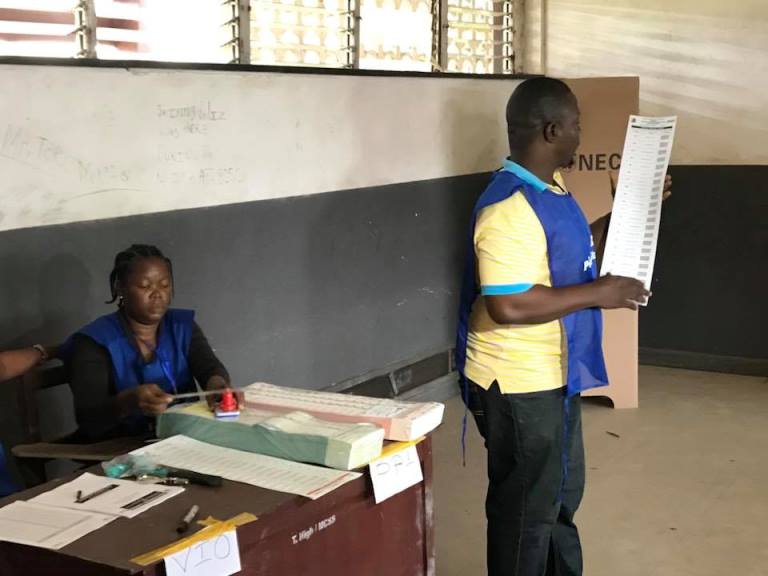 Mr. Mahama left Accra last Thursday to Liberia to monitor the general elections.
20 candidates vying to be president
Over 800 candidates representing 26 political parties are said to be contesting for the legislative slots, and 20 candidates vying to replace the incumbent president in Liberia, with a population of about 5 million.
John Mahama's wounds from Kenya's election
John Mahama had recently been ridiculed after he led a Commonwealth Observer mission to monitor the elections in Kenya, the country that had its presidential election results later overturned by the Supreme Court following alleged malpractices.
Although the former Ghanaian President has not publicly spoken on the matter ever since the results were overturned, several people including the Executive Director of the Institute for Democratic Governance, Dr. Emmanuel Akwetey, has said Mahama should be left alone because Observer Missions do not have investigative powers.
–
By: Godwin Akweiteh Allotey/citifmonline.com/Ghana
Follow @AlloteyGodwin