Ghana's High Commissioner to South Africa, George Ayisi Boateng's pledge to prioritize the welfare of New Patriotic Party (NPP) members before considering other Ghanaians, has been met with outrage and calls for his dismissal from some sections of the public.
He made these remarks at a ceremony over the weekend to welcome fresh members of the tertiary wing of the NPP, Tertiary Students' Confederacy Network (TESCON) at the Kumasi Technical University.
… this government is doing its best to create job opportunities and me for instance, I told my people over there [that], it is because of NPP that I'm here, so the NPP man is my priority. I told them when NDC was in power it was Kwesi Ahwoi who was there, now we are in power, so Ayisi-Boateng is here with you. My topmost priority is the problems of an NPP person before any other Ghanaian, take it or leave it."

"Indeed I'm not boasting, but I've started meeting the NPP groups. Every weekend I meet some group members and I tell you if I had my way, every job opportunity that will come will go to a TESCON member before any other person. And I know my colleague appointees also have the same feeling except that because of IMF we cannot do anything now.
Some Citi FM listeners vented their spleen on the Citi Breakfast Show, and described the comments as distasteful.
Some also took offense to the undertone of partisanship and cronyism in the High Commissioner's comments.
"The only problem I have is giving the opportunity to someone who does not qualify to work in the name of parties. If that is the way to go, then I am disappointed in what honorable Ayisi Boateng said," one listener stated.
But a lot more scorn of Mr. Ayisi Boateng's comments was noted on social media.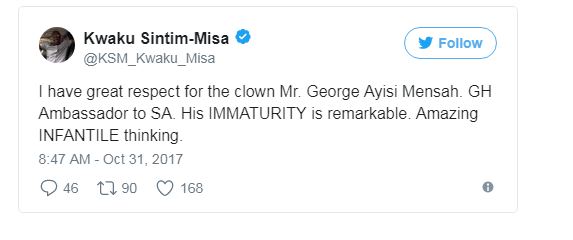 Some also called him a disgrace and described him as incompetent to head the South African Mission.


Comparisons were made to the former deputy Agriculture Minister, William Quaitoo, who resigned from his portfolio after making ethnocentric comments.
No remorse
The outrage notwithstanding, Mr. Ayisi Boateng has defended his comments and said he found nothing wrong with his pledge to put NPP members before other Ghanaians.
"When you have a large family but you first make you're your wife and children eat first before others…What is wrong with that? I am not divisive," he said.
The Minority spokesperson on Foreign Affairs, Samuel Okudzeto Ablakwa has already called on President Akufo-Addo to immediately terminate his appointment as High Commissioner, since his comment is divisive and reprehensible.
But Mr. Ayisi Boateng has said he is unperturbed. Whilst attempting to deny making the statement, he said he stands by it.
–
By: citifmonline.com/Ghana