Conserveria Distribution Ghana Ltd, distributors of the GINO brand of food products in Ghana, has donated various quantities of their products to some victims of the recent Atomic gas explosion at the 37 Military Hospital in Accra.
The donation is in response to calls on corporate Ghana, by Vice President Dr. Mahamudu Bawumia, to support the victims of the gas explosion which claimed at least seven lives and severely injuring over 130 others.
[contextly_sidebar id="AH8McfyCliPCRHcnj85oQVy6TEFQAP0e"]The country manager of Conserveria Distribution Ghana Ltd., Mr. Vishal Dogra, made the donation on Tuesday, October 17, 2017, to the 37 Military Hospital authorities in Accra.
Receiving the donation on behalf of the hospital and patients, Colonel MA Yeboah-Agyapong, the Commanding Officer of the 37 Military Hospital was full of praise for the generous donation from Conserveria Distribution Ghana Ltd.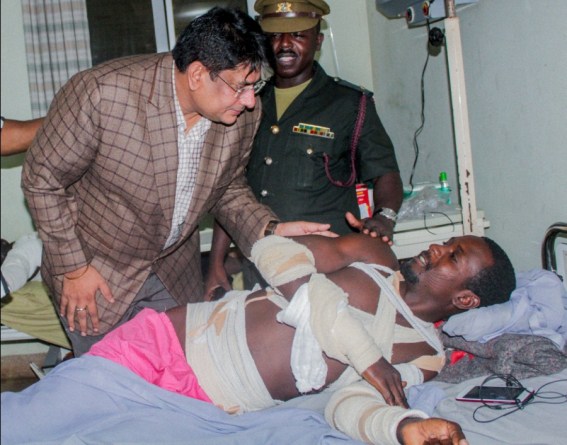 "I want to thank GINO products for the timely donation of food which is very much needed at this point. I am touched because you realize that the patients need to eat food and not only take drugs."
He encouraged Ghanaians to donate more for the victims.
"We also want to thank our benefactor Mr. Herbert Mensah who has been going round and soliciting help for us. I wish other Ghanaians will emulate his passion for helping people who are in need", Col. MA Yeboah-Agyapong added.
Conserveria Distribution Ghana Ltd is the sole distributor of GINO line of food products in Ghana, including GINO tomato paste, GINO rice, GINO mackerel, GINO spaghetti and many more.
–
Source: 3news