Over 422 artisans have graduated from the Informal Sector Department of the Institute of Open and Distance Learning (I.O.D.L) at the Koforidua Technical University.
The graduates who were drawn from six municipalities in the Eastern Region, received TVET training in techniques in modern hairdressing, beauty therapy/cosmetology, trending design and fashion, masonry, carpentry, electricals, auto-mechanics, refrigeration, way -side business models, booth spraying and leather works.
They include 98 Hairdressers and Beauticians, 80 Fashion Designers, 14 Masons, 18 Carpenters, 16 Electricians, 17 Auto-mechanics, 13 Refrigerator Technicians, 9 Petty Traders, 6 Sprayers, 9 Barbers and 22 Phlebotomists.
Speaking at the graduation ceremony, the Executive Secretary of the Council for Technical and Vocational Education Training (COTVET), Dr Fred Kyei Asamoah, who was the special guest of honour applauded the efforts of the graduates for taking the steps to upgrade themselves.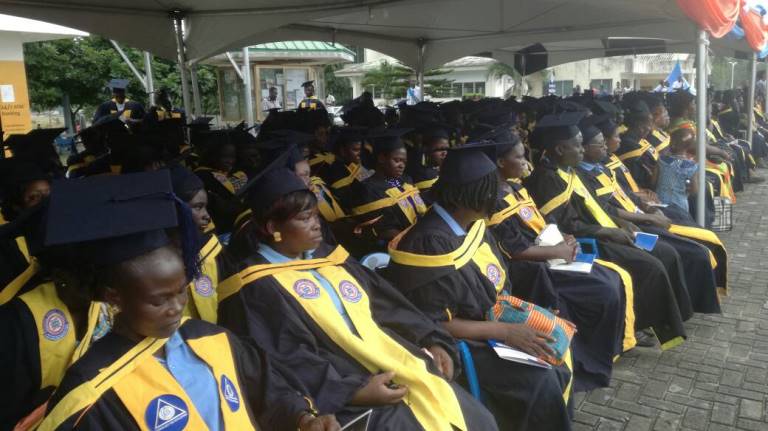 "I am very happy and I applaud all of you who have taken the right steps to upgrade your skills and knowledge. Skills and knowledge is what currently drive all economies, developed, developing and under developed. We recognize the importance of skills across all sectors and this has been emphasized greatly."
"The informal sector where most apprentices find themselves is a critical part of Ghana's economy and it contributes over 78 percent. On behalf of COTVET, which is the body that coordinates and oversees TVET and Skills development across the formal and informal sectors, and as the adviser to the Government of Ghana on TVET and Skills development, I congratulate you."
Dr. Fred Kyei advised them to be innovative and position themselves to benefit from government's programmes and policies.
"I advise that you continue to improve upon your knowledge and skills to position yourself well to be beneficiaries of Government's flagship programmes "One District One Factory, One village one Dam and Planting for Food and Jobs as all these programs will need the skills you have acquired here."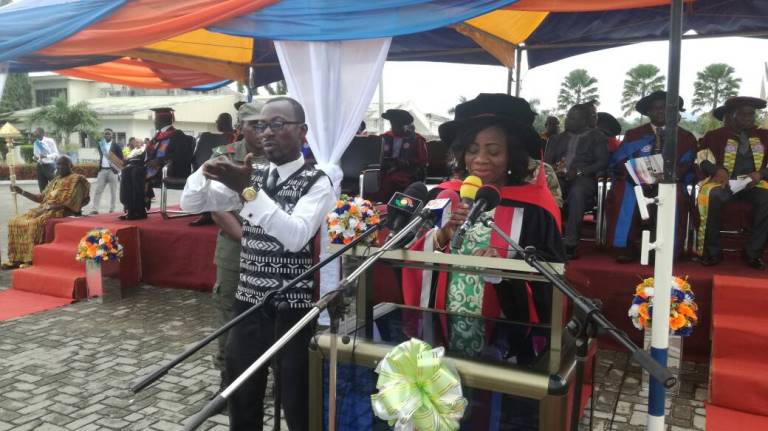 On her part, the Vice Chancellor of Koforidua Technical University, Prof. Mrs Smile Gavua Dzisi, reiterated the university's mission and vision to be the best Technical Institution in Africa.
"In the developing world, the informal sector of the economy remains a force to reckon with. The statistics show that about 80 percent of the Ghanaian work force is found in the informal sector, this is because the sector provides more employment opportunities than the formal sector, but unfortunately the informal sector is also characterized by high income insecurity, underemployment, bad working conditions and low self-esteem"
"It is against this background that Koforidua Technical University as part of its community outreach strategy, established the Department of Informal sector through this department, and in accordance with section 3 (1) F of the Technical Universities Act of 2016, the university seeks to equip and empower artisans in order to help transform their economic fortunes and make education accessible to all."
Prof Smile Dzisi further stated that, the university will continue to collaborate with other relevant stakeholders to ensure students who graduate from the university are well equipped with skills and technical knowledge to be entrepreneurs.
"Since 2012, the Informal Sector Department of our university has trained over three thousand (3,000) professionals from the informal sector, and in order for Koforidua Technical University to improve upon the training of the artisans, the university seeks to collaborate with its key stakeholders such as COTVET to ensure that the certification of subsequent programmes will be issued in sync with the National TVET Qualifications framework that emphasizes the use of competency based training emphasizes skills acquisition that makes one (work-ready) for the world of work and industry."
–
By: Neil Nii Amatey Kanarku/citifmonline.com/Ghana