The sixth and final brand-new Hyundai Accent saloon car in the Coral Paints 'Paint Your Dream Into Reality' promotion, has been handed over to a 36-year old electrical engineer, Francis Karikari Owusu.
Coral Paints started the promotion in April 2017, and ended in October, giving away five brand-new cars to different winners after they found the dummy key in the Coralatex 18L pails.
[contextly_sidebar id="X0edVzNPlMrz9FkteJ9FK0RCwcHEimf9″]Mr. Owusu received the keys to the sixth and last car from the General Manager of Coral Paints Ghana, Yaw Bonnah-Sarpong, at the Coral Colour Centre in Accra on Thursday.
Presenting the keys to the Electrical Engineer, Mr. Bonnah-Sarpong expressed appreciation to all the previous winners, and said Coral Paints will continue to create innovative activities to reward their numerous clients for their support over the years.
Receiving the keys to the brand-new Hyundai Accent car, Mr. Karikari Owusu thanked Coral Paints for making his dream come into reality, after pestering his boss to get him a car.
Narrating how he won the car, he said his boss bought four of the Coralatex 18L pails to repaint his office, but upon reaching the office, his boss asked him to unpack the paints in order for the painters to start work.
According to him, "it was upon seeing the receipts of the paints that I realized Coral Paints was running a promotion, hence I decided to open the paint buckets myself to see if I will find the dummy key."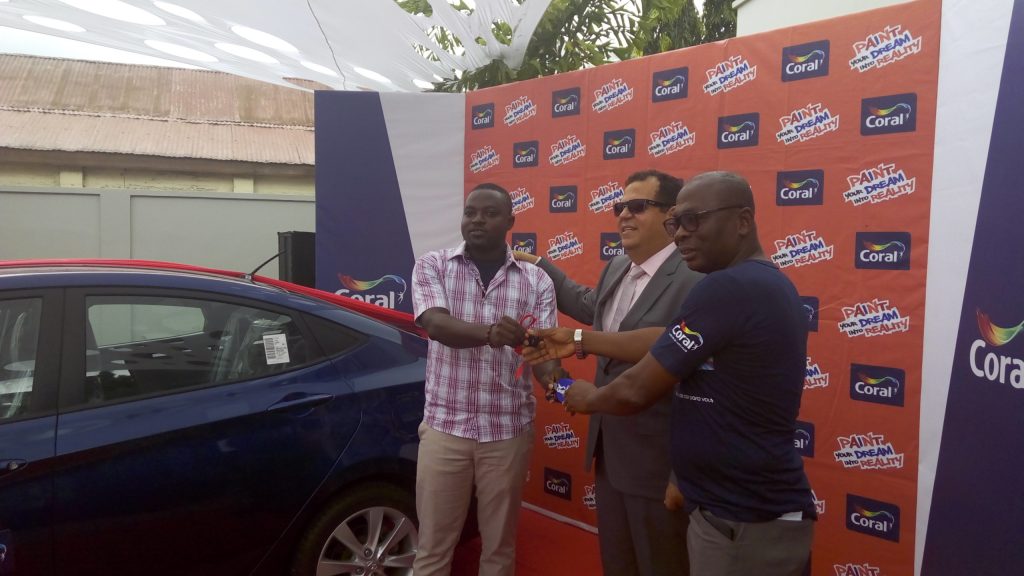 After opening the second bucket of paint, Mr. Karikari saw the dummy key and quickly called his boss to inform him about it.
"Fortunately for me, my boss asked me to take it because I found the dummy key," he noted.
He sent the dummy key to the Coral office where he was asked to present the receipt of purchase, and the dummy key, which he did, and that was confirmed the sixth and last winner of the six cars.
The 'Paint Your Dream Into Reality', is the company's third promotion campaign.
In the first promotion in 1995, the winner received a brand new house.
In the second promotion, Coral Ghana sponsored some customers on an all-expense paid trip to Brazil to watch the national football team, the Black Stars at the FIFA World Cup in 2014.
–
By: Farida Shaibu/citifmonline.com/Ghana