131 radio stations have found themselves at the wrong side of the law as they have been sanctioned by the National Communications Authority (NCA) for various offenses.
34 of them who are said to be operating illegally in the country following the expiration of their license have had their licenses revoked.
Some of the radio stations according to the NCA, have refused to renew their license for close to 17 years. But it is unclear why the NCA has allowed these illegalities to persist for years.
NCA said it took the decision after conducting a "spectrum audit" into the radio space.
"The National Communications Authority (NCA) has sanctioned a total of 131 FM Authorisation Holders found to have committed various infractions pertaining to their authorisations to operate as contained in Section 13 of the Electronics Communications Act (2009), Act 775," NCA said in a statement.
The NCA aside revoking the license of 34 radio stations, also fined others to the tune of GHc1.24 billion.
According to the Authority, per laws governing the media space, an amount of GHc10,000  is charged daily on radio stations that refuse to renew their license after its expiration.
Below is an infographic of the 131 radio stations sanctioned and their offences: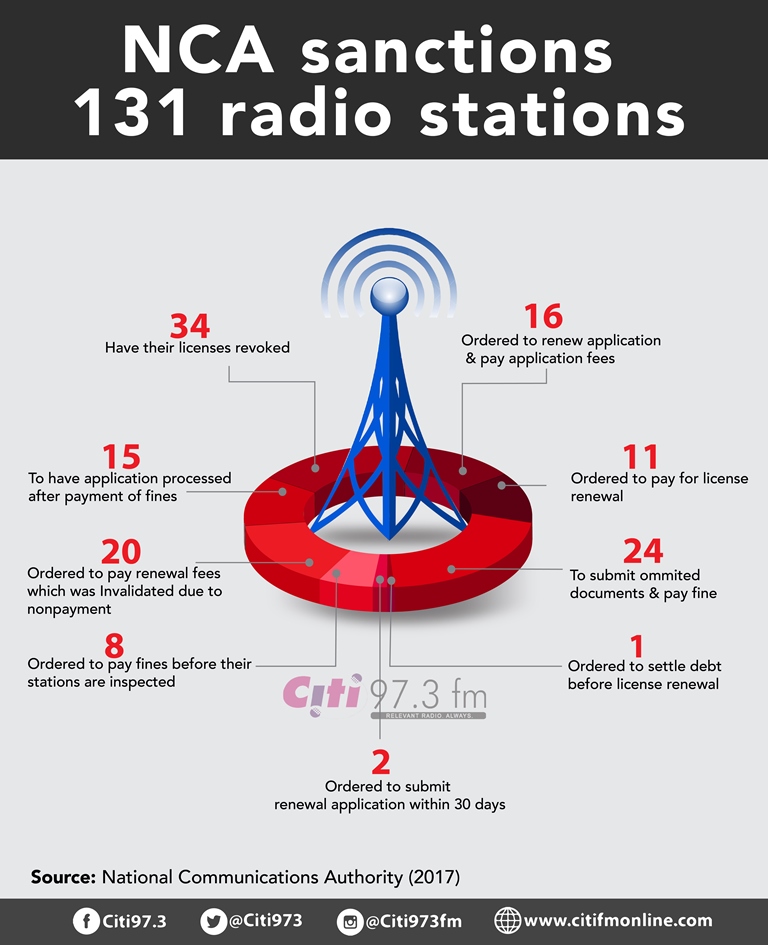 –
By: Godwin A. Allotey & Melvin Clottey/citifmonline.com/Ghana
Follow @AlloteyGodwin