A former diplomat who worked in the Mahama administration, Sam Pee Yalley is claiming that Alfred Woyome has never been a member of the opposition National Democratic Congress (NDC).
According to him, the embattled businessman at the centre of the controversial GHc51 million judgment debt saga, only has acquaintances in the party and insisted that NDC should not be associated with Woyome's corruption tag.
[contextly_sidebar id="lJfSUKqLD9WnjavnbbGig89eHCiLvAcE"]"Woyome has never been a member of the NDC and I stick to that length. It's only that he came to encumber whatever it is with the NDC with some supporters. NDC did not know Woyome until this matter came up," he stressed on Eyewitness News on Wednesday.
Pee Yalley made the claim when commenting on recent happenings in the NDC which has led to some members of the party demanding the suspension of party founder, Jerry John Rawlings and former Attorney General, Martin Amidu.
Mr. Rawlings and Amidu have come under attack from some members of the party including former Deputy Chief of Staff, Dr. Valarie Sawyerr who claims the two have brought the name of the NDC into disrepute with their comments.
The two have consistently chastised the NDC describing the party as corrupt and cited Woyome's "unconstitutional" receipt of the GHc51 million judgment cash.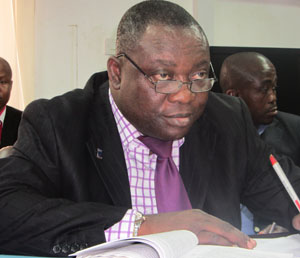 In the case of Amidu, the man who is on the heels of Woyome for the cash,  two members of the NDC have petitioned the leadership  of NDC to have him suspended.
Stop attacking NDC; name corrupt persons
However, Mr. Pee Yalley on Eyewitness News dared Mr. Amidu to mention names of persons in the NDC who benefited from the GHc51 million booty and back it with evidence or forever hold his peace.
"If there are any individuals in the NDC who are acquaintances of the Woyome crime he has the right to mention them rather than to smear all of us with that situation. If Martin Amidu has evidence of any body in the NDC who might have got a dime out of that situation he should mention their names. Because some of us have lived our lives bringing up the NDC and I have never been corrupt in any manner so Martin Amidu or anybody cannot just smear all of us with corrupt image."
"The fact that Woyome may have some connection with NDC members the same way he has connection with some NPP members. Was the NDC formed because of Woyome? No we did not. We formed NDC because we believe that as social democrats we have something to offer to the people of this country. We are not going to back down by Woyome's one time corruption," he fumed.
–
By: Godwin Akweiteh Allotey/citifmonline.com/Ghana
Follow @AlloteyGodwin