The National Democratic Congress (NDC) has told Citi News that former Attorney-General Martin Amidu will soon be hauled before the party's Executive Committee to answer for some allegations leveled against him.
This follows a damning article written by a former Chief of Staff Dr. Valery Sawyer against Mr. Amidu and former President Rawlings and a subsequent petition asking the party to sanction the former Attorney General.
The petitioners — Evans Amankwah and Abigail Elorm Mensah argued that Mr. Amidu has constantly dragged the party's name into disrepute in his articles and flouted Article 45 of the NDC's constitution.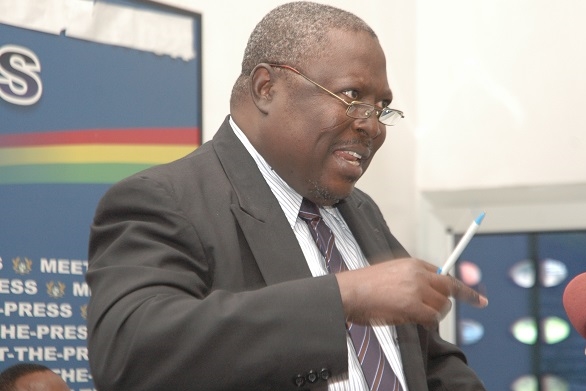 Speaking to Citi News' Kojo Agyeman on the development, the National Organizer of the NDC, Kofi Adams said Mr. Amidu will be given the chance to clear himself but if found culpable he could be dismissed.
"Martin Amidu will be given the chance to appear before the committee to substantiate or answer to the allegations and the complaints that have been leveled against him. Then we give the committee some time to submit their report. Based on the report they submit a final action will be taken."
He said the committee has six weeks to submit its report to the party.
[contextly_sidebar id="nSAA113Lia9W0BIkrYb0CSOVupDZ2V15″]"If we feel that the gravity of his [Amidu's] offence and the review of the issues that have been raised and we realize that the punishment is too much, the functional executive or national executive committee can review it or they can accept it in toto. The highest punishment is dismissal. The punishment of dismissal can be exacted by the national executive committee or congress," Kofi Adams added.
I won't be intimidated by petitions – Amidu
Meanwhile Martin Amidu has responded to the petition calling for his suspension from the NDC.
Mr. Amidu said that he wrote those articles in his capacity as a Ghanaian citizen to "defend the right to representation and free and fair elections."
"The first two articles I am charged with were written by me as a citizen of Ghana pursuant to Articles 3, 12, 42 and 55 of the 1992 Constitution to defend the right to representation and free and fair elections. My first article referred to by the petitioners was entitled: "The inexperience and incompetence and arrogance of the Electoral Commissioner are becoming very dangerous." It was an article in defence of representative democracy and a free and fair election pursuant to the national Constitution. I concluded that article in calling on Ghanaians to: "Let us as citizens defend the Constitution by watching her every step during this election." Since when did a Ghanaian citizen lose his Constitutional right to defend the national Constitution simply because he is a member of a political party whose constitution is subordinate to the national Constitution?" he said.
–
By: Godwin Akweiteh Allotey/citifmonline.com/Ghana
Follow @AlloteyGodwin