The Eastern Regional Office of the Ghana Tourism Authority has closed down about 20 hotels operating illegally in the region.
The hotels were situated at Adawso, Mamfe, Akropong, Abiriw, Adukrom, Aburi and Akuapem.
According to the Ghana Tourism Authority, the dilapidated forms  of the hotels posed a serious threat to customers who patronise the facilities.
The Eastern Regional Manager of the Ghana Tourism Authority, Rudolf Adjei Fredrick who spoke to Citi News indicated that the enforcement exercise was necessary to protect patrons of the hotels because the facilities operated without required license and also failed to meet standards and regulations of such facilities.
He said "this enforcement exercise is important because for every business or venture you want to involve yourself in this country there are rules and regulations governing it and in the hospitality industry before you can operate you need to licenced by the Ghana Tourism Authority but we have come to the realization that there are a lot of units operating in the region without license and this exercise is trying to minimize the number of units operating without a valid license from the Tourism Authority by enforcing closure on those that we have identified until they go through the proper registration process."
He added that "one of the reasons most they have not come to register and operating without license is that they know their facilities are not fit to meet our standards and requirements for this matter they are given substandard services to people and is of this reason we want to protect Ghanaians who patronize these hotels."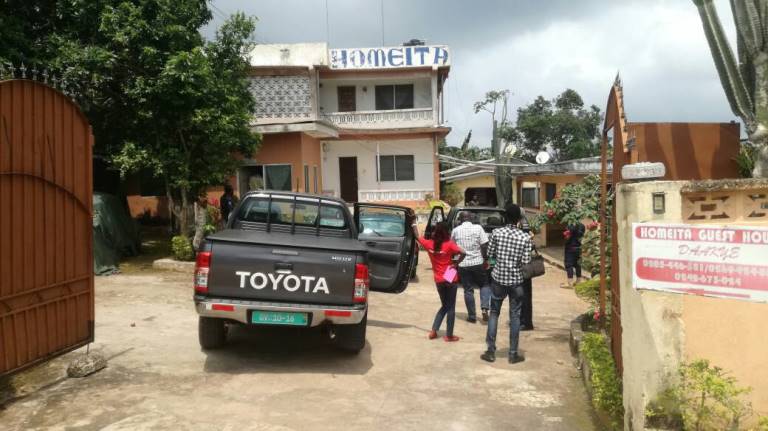 Frederick Adjei Rudolf however pleaded on patrons of hotels to only patronize Ghana Tourism Authority certified hotels for their own safety and cautioned owners of illegal hotels to come and register or face sanctions.
FULL LIST OF HOTELS CLOSED DOWN
GHANA TOURISM AUTHORITY:
EASTERN REGIONAL ENFORCEMENT EXERCISE OF ACCOMMODATION
AND CATERING ESTABLISHMENTS OPERATING ILLEGALLY
1st DAY OF ENFORCEMENT: TUESDAY, 15TH AUGUST
1. New Day Hotel-Adawso (operating without license)
2. Oparebea Guesthouse-Mampong (operating without license)
3. Awo Denkyira Hotel -Aburi (operating without license)
4. Ansah Hotel-Dawu (operating without license)
5. Jewel Royal-Awukuguah (operating without license)
6. O N Hospitality-Adukrom (operating without license)
7. Lalobi Guesthouse-Adukrom (operating without license)
8. Sabato Hotel-Adukrom (operating without license)
9. Homeita Guesthouse-Akropong (operating without license)
2nd DAY OF ENFORCEMENT: WEDNESDAY, 16 AUGUST 2017
1. Owusu Memorial-Osiem (Operating without operational license)
2. Balmes Hotel-Tafo (Failure to pick up provisional license)
3. Nanom Hotel-Jumapo (operating without operational license)
4. Ekus Royal-Nsawam(operating without operational license)
5. Spino Lodge-Nsawam (operating without operational license)
6. Translink Hotel-Koforidua (Failure to pay tourism levy)
7. Handsmade – Koforidua (To ascertain actual status)
3rd DAY OF ENFORCEMENT: THURSDAY, 17TH AUGUST 2017
1. Omama Hotel -Asuom (operating without operational license)
2. Homebed Hotel -Akim Oda (operating without operational license)
3. Akua Nyame Gardens Hote -Akim Anomase(operating without operational license)
4. Assah Guest House main – Akim Oda (Operating without operational license)
5. Assah Guest House Annex – Akim Oda (Not Registered and not licensed)
4TH DAY OF ENFORCEMENT: FRIDAY, 18TH AUGUST 2017
1. Nene Ekpeku Hotel -Somanya (operating without operational license)
2. Rehoboch Hotel -Akwamufie(operating without operational license)
3. Ofie Ne Fie Hotel -Akwamufie(operating without operational license)
4. De-Kay Hotel -Kpong (failure to pick provisional license)
–
By: Neil Nii Amatey Kanarku/citifmonline.com/Ghana