Members of the Abura-Asebu-Kwamankese District Assembly in the Central Region have today (Tuesday) voted to confirm the President's District Chief Executive nominee, Felicia Aba Hagan.
Her confirmation makes her the last nominee to get the nod of an assembly in the Region, following her initial rejection by the Assembly members earlier in May this year.
This brings to two the the total number of female district chief executives out of the twenty Metropolitan/Municipal/District Assemblies in the Region.
Upon her nomination earlier this year, Aba Hagan had been facing a very stiff opposition from majority of the assembly members, leading to her getting seventeen out of the forty-three members who voted back in May.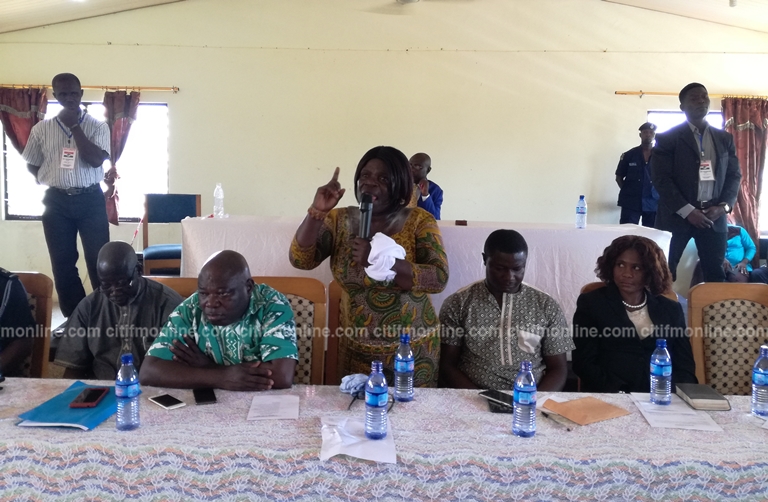 The Regional Minister, Kwamena Duncan, at the time, lamented heavily over the rejection of the nominee, and advised the assembly members to put the interest of the district first to engender development in the area.
President Akufo-Addo re-nominated her in June, reigniting the tension between the nominee and the assembly members.
As a result, the Assembly's meeting today to vote over her was marked by a very charged atmosphere.
A crowd made up of people believed to be sympathisers of the ruling New Patriotic Party gathered in front of the Assembly hall, clad in red, holding various placards and chanting songs that appeared to warn members not to vote against the nominee.
After the voting, she gathered forty votes in her favour as against four 'NO' votes, bringing her battle to head the District to a fruition.
In her acceptance speech, the new District Chief Executive assured members of the assembly of her preparedness to work with each of them.
She urged them to discard all forms of unfavourable views about her, assuring she is not like how people perceive her.
A 2015 population estimate pegged the number of people in the Abura-Asebu-Kwamankese District at 133,452, with a mostly agrarian economy characterised by the cultivation of citrus, oil palm and cocoa as well as a busy fishing industry at Moree.
–
By: Joseph Ackon-Mensah/citifmonline.com/Ghana